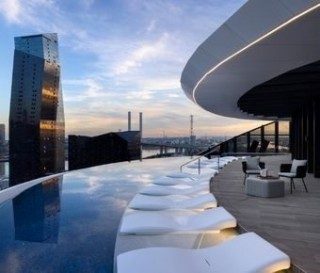 New Marriott Melbourne Docklands has berthed

Located in the Docklands precinct of New Quay, Melbourne Marriott Docklands is the first five-star property in the harbour suburb.

It features 189 guest rooms, a rooftop infinity pool (pictured) and an exclusive M Club executive lounge.

Located just minutes from Melbourne's city centre by tram, it is also an easy walk to the bars & restaurants of New Quay and the Marvel sporting stadium.

For Bonvoy members, it is a Category 5 hotel (at least until Bonvoy's dynamic pricing commences) - identical to the Westin Melbourne, Sheraton Melbourne & Melbourne Marriott (which are my personal order of preference).

Cash prices appear to be closer to those of Melbourne Marriott than those of the Westin or Sheraton which are both located on/near Collins Street.

For more details, see the Marriott website.

Note that Marriott is one of our advertisers and at no extra cost to you, we may earn a small compensation from you using our link to them.