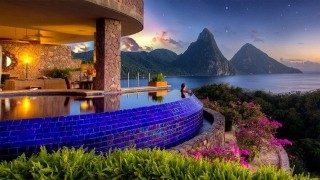 Jade Mountain Joins Regenerative Travel

Jade Mountain in Saint Lucia has received Member Hotel Status from the Eco-Luxury community Regenerative Travel as it becomes the latest addition to its portfolio of sustainable hotels.

Jade Mountain is an entirely hand-built hotel in St Lucia where the rooms have no outer walls and are completely open to the ocean and piton views, each with its own private infinity pool or jacuzzi. Some readers may recall Jade Mountain was the hotel featured in the BBC 2 series Amazing Hotels – Life Beyond the Lobby (season 3, episode 4).

Regenerative Travel is a community of independent, luxury hotels that aim to shift the travel industry towards a more regenerative future.

Jade Mountain will receive a bespoke educational curriculum to further its commitment to regeneration. It will also be required to undertake a regular self-assessment and report monthly on 29 indicators aligned with Regenerative Travel's standards. This assessment holds hotels accountable to its eco-credentials and is a showcase of activism towards a regenerative future.

Jade Mountain has practiced sustainability since its opening in 2006 and has placed emphasis on retaining as much economic benefits in the region as possible. The property takes sustainable steps while educating guests about the culture, history and ecology of the region. For instance, the resort has made its water supply independent from Soufriere so as not to impact the local community. All of the drinking water at Jade Mountain is sourced from the river at Anse Mamin valley, which is then filtered and conditioned at the resort in a special treatment facility. The resort also has its own rainwater-fed water purification plant system and recycles treated sewage water, which irrigates a nursery which, in turn, propagates thousands of tropical plants for landscaping.

Jade Mountain was inspired by the philosophy of building in alignment with Caribbean nature. No machinery was used in its construction; it also has either used all furniture and furnishings made locally or purchased them from local businesses. The property features rugged stone-faced columns, individual bridges and infinity pool suites that overlook the Caribbean Sea.

All members of Jade Mountain's construction team were from St Lucia and the hotel currently employs a 99 percent local workforce, making them one of the most important employers in the region.

This stunning eco-luxury hotel is also a member of the Small Luxury Hotels program and guests can receive special perks by booking through our affiliated travel agency or as members of SLH Invited.