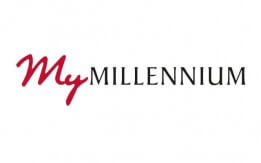 My Millennium Guide - great hotels in a simple program
Originally published 23 October 2019.
Last updated 28 May 2023.

This guide is based on the current My Millennium Terms and Conditions dated 14th April 2022
---
Millennium Hotels & Resorts is possibly the simplest points-earning hotel rewards program
Undoubtedly, many travel loyalty programs are becoming more complex and difficult to find value without a lot of work. Many programs have multiple "elite status" levels, each with varying entitlements to benefits (eg) room upgrades or complimentary breakfast.
Imagine a simpler program where all benefits are accessible to any member, based purely on their loyalty to the hotel program (paid nights stayed).
Let's take a closer look at My Millennium.
---
All about Millennium Hotels & Resorts (MHR) and the My Millennium guest reward program
Table of Contents
---
MHR brands and their positioning
MHR has a range of brands, covering the range from midscale to upper-upscale. It lacks a brand at the very top end, but otherwise spans the market quite well, with little confusion as to which brand fits where in the marketplace.
Table 1 - MHR brands and approximate alignment with some competitor brands:
Company
Luxury
Upper upscale
Upscale
Upper midscale
AccorHotels
Sofitel, Fairmont, Raffles
Swissôtel, Grand Mercure

Pullman, MGallery, The Sebel, Adagio Premium
Suite Novotel, Adagio,
Mama Shelter
Best Western Hotels


WorldHotels
Best Western Premier, Vībe, BW Premier Collection

Best Western Plus, Executive Residency by Best Western
Hilton Worldwide
Waldorf Astoria, Conrad Hotels

Hilton, DoubleTree,
Canopy by Hilton,
Curio Collection
Embassy Suites by Hilton

Hilton Garden Inn, Homewood Suites by Hilton,
Home2 Suites
Hyatt Hotels Corporation
Park Hyatt, Grand Hyatt
Hyatt Regency, Hyatt Hotels, Andaz
Hyatt Place, Hyatt House Hotels, Hyatt Centric   


InterContinental Hotels Group (IHG)
Six Senses, InterContinental, Regent
Crowne Plaza, Kimpton Hotels & Restaurants

Hotel Indigo, EVEN Hotels, Staybridge Suites, Holiday Inn Select, HUALUXE Hotels & Resorts

Holiday Inn
Meliá Hotels International
Gran Meliá, ME by Meliá, Paradisus


Meliá, Innside


Marriott International
Ritz-Carlton, Bulgari Hotels, Edition Hotels, JW Marriott Hotels, St. Regis, Luxury Collection

Renaissance Hotels, Marriott, Autograph Collection, Delta, Marriott Executive Apartment, Gaylord Hotels, W Hotels, Design Hotels, Westin Hotels & Resorts, Le Méridien, Sheraton, Tribute Portfolio
AC Hotels, Fairfield Inn by Marriott, Courtyard by Marriott, SpringHill Suites, Residence Inn by Marriott, Four Points by Sheraton, Aloft Hotels, Element Hotels
MOXY Hotels, Protea Hotels,
TownePlace Suites
Millennium & Copthorne Hotels



Grand Millennium Hotels
Millennium Hotels,
Grand Copthrone Hotels
Copthorne Hotels, M Hotels

Source: extract from wikipedia.org
---
Geographic Spread of Millennium Hotels & Resorts
MHR's portfolio of properties consist of both urban hotels and resorts, spread globally, but with concentration in the Middle East (57 properties), New Zealand (18 properties) and England (23, including 6 in London alone). The US has its 14 properties spread across multiple cities, but more are closer to the east coast than the west coast. The Middle East is the region with the greatest number of properties.
This concentration of locations is useful if your travel stays are concentrated in the same regions, but also makes it difficult to earn points from stays, if they are not.
---
My Millennium Elite Membership Tiers & Benefits
My Millennium (the new loyalty program of the Millennium hotel chain, replacing the Millennium and Copthorne Loyalty Club) was launched in March 2019. Compared to its predecessor, the programme has been significantly revamped - both simplified and enhanced.
Prior to April 2022, the loyalty scheme had a single tier membership. Folk were either non-members, or they all shared the one membership tier. From 19 April 2022, a new Prestige membership tier was introduced, with additional benefits.
Benefits of being a My Millennium member
10% off the published room-rate. The member exclusive rate aims to be better than through any other channels.

free wifi is included for bookings made via their website - you can bookmark the Millennium Hotels booking page here.

20% dining discount and 3X points for stays made during the month of your birthday

10 points per USD spent on room rates

4 points per USD spent on incidentals like food & beverages at the property.

Prestige Tier Status
After stays totalling 10 nights stays in a calendar year, a member attains Prestige status, (T&C 7.1)which opens up additional benefits such as (T&C 2):
a 50% higher points-earning rate applied to room rates (15 points per USD)

complimentary room upgrades to the next category (st availability and not to suite level)

early check-in/late check-out (by 2 hours each)

kids eat free - children aged 6 or below receive free meals when dining with 2 paying adults, one of whom is a Prestige member.

invitations to exclusive events.

Note that you must show your membership card at check-in and any redemptions for Instant Rewards must be confirmed then too.
Prestige tier status must be earned each year and the upgraded status applies from the time of upgrade to December 31st of the following year.

---
Earning rewards points ("My Points")
Rewards points must be earned via spending on eligible spending at a participating hotels, or purchases made in the online store. Unlike many other programs, points cannot be purchased. Payment for the room must be made by the member.
Payment for the following will not earn points (T&C 1):
Complimentary rooms;

Room rates booked via third parties for e.g. travel agents, online travel agents etc;

Room rates provided in conjunction with airline and/or travel industry discounts;

Room rates of airline crew members paid by the airline;

Room rates for group conventions or corporate meetings; or

Room rates for selected long-term stays.

My Points are not awarded for (i) hotel stays for which frequent flyer programme miles are earned and vice versa; (ii) bookings made through online travel agents (Expedia, booking.com etc); (iii) items redeemed using My Points.
My Points cannot be claimed for stays made prior to membership.
Each (qualifying) stay at a participating property earns 10 points per USD spent on the base room rate. An additional 5 points per USD are earned by Prestige tier members.
Incidentals spending at a participating property earns 4 points per USD spent.
Points are not earned on bookings made through an online agency (Expedia, booking.com etc), but are earned for booking made through Travel Advisors.


---
Retaining My Millennium points
Points expire on the anniversary of the end of the month in which they were earned (eg MyMillennium points from a hotel stay on July 5th will expire at midnight on July 31st of the following year).
There is no ability to refresh or extend the expiry date (T&C 4.2) so it is a "hard" expiry.
There is the ability to request Customer Service to (at their discretion) transfer points to another member. So another family member may be able to use those points before they expire. It's not explicitly stated (in T&C 4.2), but I suspect the expiry date transfers with the points (ie they are not "refreshed" by the transfer).
Accounts with no activity for 24 continuous months or more can be closed (and any residual points forfeited) at the discretion of MHR.

---
Redeeming My Millennium points
Members may redeem their My Points for My Rewards online by login in their member's account. Such redemptions may be made for a hotel room stay at Participating Hotels or Redemption Partners' vouchers and/or MHR Group vouchers(T&C 6.2).
Free nights at a participating property are redeemed at a fixed value of USD 5 per thousand points.
My Points may also be redeemed for the following Millennium guest rewards ("My Rewards"), for an enhanced stay experience (T&C 6.2):
room upgrades (one level only at a cost of 4,000 points on average, but varies with the property)

free breakfast

club lounge access

My Millennium laundry (limit of 2 garment pieces)

food and beverage vouchers (eg for use in an associated restaurant).

Points can be used for purchases in the My Millennium Mall which provides access to Uber, Spotify and country-specific retailers such M&S and Macy's. This is a lower value use of your points (approx USD 4 per thousand points) and should only be used if you have no chance of using them as part of a stay (or transferring them to someone else who can).
---
My Millennium Program partners provide alternative rewards
There are 3 airlines as program partners Air New Zealand, JAL and Singapore Airlines.
Points earned cannot be transferred to airlines' mileage programs (the way say Marriott Bonvoy allows), but airline miles can be earned instead of points as rewards for a stay.
The amount of points is fixed per stay (nb not per night) but the amount varies across airline programs.
500 or 300 miles (depending on brand) per eligible stay for JAL

500 miles per eligible stay for Singapore Airlines

Air New Zealand is the exception, offering miles based on the amount spent at MHR properties.

1 Airpoint per NZD$15 spend at M Collection, Millennium Collection and Copthorne Collection in New Zealand.

Outside New Zealand the rate is 1 Airpoint per NZD$20 spend at Leng's Collection, M Collection, Millennium Collection and Copthorne Collection

Source: millenniumhotels.com
---
Special features of the My Millennium program
There are a few special features, some of which are quite unique.
Payment for stays may be made with a combination of points and cash. Note that your points must be fully used and ten topped up by cash.

Members may request to transfer their My Points to other Members by contacting My Millennium Customer Service. Up to a maximum of six (6) Members may be nominated for a transfer. Accepting any transfer request shall be at the sole and absolute discretion of My Millennium.
Each time you complete a total of 10 nights from stays in a 12 month period, your accumulated points balance at that date is doubled. This results in a very attractive 10% yield on your spending. If your annual nights total is less than 10, the yield drops to a still reasonable 5%. This is in addition to your discount as a member.
If you stay 10 nights, you then earn enough points for a single night in a room that costs the same as the average cost of your previous 10 nights. For example, after 10 nights of stays in a $200 room, you earn sufficient points for a free night in a room with a cash price of $200 per night.
This compares very favourably to the "5th night free" of Hilton Honors, where you must first earn enough points for the first 4 nights (requiring a lot more than 10 paid nights)....

Not as attractive as Marriott's "stay 5, pay for 4" feature. But...

Nights stayed during the month of a member's birthday earn triple (!) points (limited to one room only). For each night's stay during a birthday month, your points earned on a total of 10 nights increases by 5%. So, a total of 10 nights with 2 of them during each of a couple's birthday months will provide enough points for a pricier room and yield of almost 20%.
The latter two features are quite unique and generous. You can imagine that staying 10 nights through a year, especially with a couple of them during a birthday month you could comfortably earn at least one free night each year, or a room upgrade for a longer paid stay.
Combining this idea with the points transfer feature if you and your partner are both members makes this even easier.
Even if you can only manage say two nights in both birthday months, the points earned could be sufficient to cover one breakfast on a paid stay (only a benefit on other programs if you have at least "Gold" status - Elite Tier 2).
---
Are there My Millennium member-only offers?
YYes. Usually quite generous too.
There are My Millennium offers based on the regional locations and there are other periodic promotions that members receive via email.
---
Does Millennium offer a program for business owners?
Yes. The Millennium for Business ("M4B") program is designed for business owners and offers:
discounted rates (or negotiated rates for businesses needing more frequent stays)
guaranteed room upgrade for guests
each traveller receives membership of MyMillennium and earns points for their stays that can be used for food vouchers etc.
dedicated online booking portal for your Travel Manager.
To be eligible, you must have a business registration (eg for VAT in the UK, ABN in Australia, NZBN in New Zealand). If you do, then applying for membership of Millennium for Business is very straightforward. It has its own User Guide .


There is also the My Millennium PRO program for Corporate Bookers.


---
Best use of My Points

Tip: When making any bookings on MHR's website, compare using different currencies. The cash price changes with different currencies, but so do the points prices. Setting the currency to USD or GBP seems to provide the lowest points requirements. AUD and other currencies resulted in higher points required for the same stay.
---
Observations - My Millennium
If your work or leisure travel patterns mean that you can stay 10 nights or more in participating properties, you should be able to qualify for at least one complimentary night with Millennium Hotels and Resorts. This is a yield of 10% or more based on comparable paid and free stays - well in excess of what is typical of other global hotel chains' loyalty programs.
The main limitations are that:
points cannot be purchased
the limited size footprint means that not everyone will be able to enjoy 10 nights within a single year at properties.
Combined, they make it hard for some folk to earn sufficient points for a free night, so their points will expire if not used for "Instant Rewards" on a paid stay (room upgrades, breakfast etc).
Access to these rewards is still far easier than via large programs with "elite tiers" of membership. You can use My Points to transform a paid stay into something with similar benefits/entitlements to those of a Gold member on other programs (while a couple of other programs require 15 nights, most require 30 nights or more before qualifying for these benefits).
For business owners, Millennium for Business may be an especially sweet spot. You receive a specially discounted room rate and regardless of points earned, your travellers will receive guaranteed room upgrades - a very valuable benefit, given many programs don't guarantee upgrades for anyone other than their highest elite membership tier(s). Points earnt can be used instead for breakfast or meal discounts, making for very cost-effective and comfortable stays.
---
Conclusions - My Millennium
Despite being a revenue-based points program, My Millennium offers good value for all members through its single-tier design and generous special features.

Loyal members who are able to utilise the properties on a regular basis will do very well under this program, with its relatively low number of required nights to earn one complimentary night. The birthday bonus of triple points for all members and guaranteed room upgrades for business owners registered with Millennium for Business make this a very attractive alternative to larger programs. You can receive benefits normally reserved for upper tier members of those programs at far lower cost - as long as the locations suit your travel patterns.
---
How to join My Millennium
It is easy to open an account as an individual - just apply for membership of My Millennium.

If you are an owner of a registered business, you will gain even more benefits by also applying for membership of Millennium for Business.
Note that:
both programs are free to join and
there is no status-matching available.
For hints on how to extract the maximum value from your membership and tips on points planning and travel, subscribe to our free email service. We don't like spam either and so we aim to only send you information that is relevant to you. .
---
FAQ - My Millennium