Hilton Honors - promotions analysis
This page contains links to our advertisers - Hilton Hotels & Resorts and Hilton Honors. Should you make a purchase using our links, we may at no additional cost to you, receive a small compensation that helps us to keep this site running. There is no obligation to use these links, but we really appreciate your show of support when you do.
---
- Current Hilton Honors Offers
Hilton Honors Points Purchase Promotions
Currently, there are no points promotions running.
Generally purchasing points is a simple way of extending the life of your existing points balance. Doing so during one of the regular promotions can provide a cost-effective way of "refreshing" your points, or gaining you award nights.

You could:
use the opportunity to buy a modest number of points and "refresh" the life of your current balance.
buy more points and cut the cost of a nice stay, especially for Elite Tier members who combine this offer with their 5th night free benefit.
Our analysis of Hilton Honors points promotions is below.
Not sure how many points to purchase? The very handy HH points explorer can help you work out what you need to get to your next lovely stay.

Hilton Honors Status offers
Currently, there are no status challenges/promotions running.

Note that you can request a status-match at any time. See our guide to the Best Hotels Rewards programs for how to do so and what HH match you can expect usually if you do.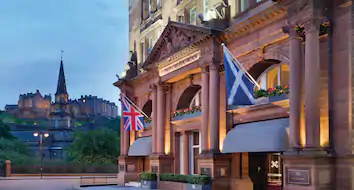 Waldorf Astoria, Edinburgh- the Caledonian
Analysis of Hilton Honors points promotions
In our complete Hilton Honors guide, we noted that:
there are a number of stand-out features that make Hilton Honors an attractive program for a wide range of travellers.
there are promotions that provide opportunities to buy discounted points for an intended stay that can really slash the cost of your stay. Especially if used in combination with the Points & Money feature of the program.
The Hilton Honors program has regular promotions for points purchases. We look at the history of their promo's to see:
Are current promotions good value?
Are the offers seasonal?
When do the best offers usually occur?
Points Promotions
Recommendation - Buy Hilton Honors points during promotions offering when there is a discount of 50%/bonus of 100%.
Hilton Honors offers for its points for sale through the points management service of points.com. The usual rate is USD 10 per thousand points, with a member limited to purchasing no more than 80,000 points in a calendar year.
Our "fair value" valuation for Hilton Honors points (the level at which you can redeem them for good value accommodation) is approx. USD 5 per thousand (approx GBP 3.93 or AUD 7.85). So a discount of 50% or more makes purchasing additional points interesting.
Hilton Honors offers have been consistently set at a 100% bonus / 50% discount for a couple of years now (so not seasonal), with promotions every second month (although 2020 was an exception in more ways than one). So purchases during these promotions should provide ample opportunities to obtain good value, if you have a specific purpose in mind. During promotions, the maximum number of points able to be purchased is often increased too, making getting to your goal even easier.
Note that we do not recommend buying points speculatively, or hoarding them.
Table 1 -History of Hilton Honors points promotions
| | | | | |
| --- | --- | --- | --- | --- |
| Offer End Date | Offer Discount | Offer Bonus Points | Price per Thousand (USD) | Effective Discount |
| December 2021 #2 | | 80% | 5.55 | 44% |
| December  2021 #1 | | 100% | 5.00 | 50% |
| July 2021 | | 100% | 5.00 | 50% |
| December 2020 | | 100% | 5.00 | 50% |
| May 2020 | | 100% | 5.00 | 50% |
| February 2020 | | 100% | 5.00 | 50% |
| December 2019 | | 100% | 5.00 | 50% |
| November 2019 | | 100% | 5.00 | 50% |
| October 2019 | | 100% | 5.00 | 50% |
| July 2019 | | 100% | 5.00 | 50% |
| May 2019 | | 100% | 5.00 | 50% |
| February 2019 | | 100% | 5.00 | 50% |
| December 2018 | | 100% | 5.00 | 50% |
| September 2018 | | 100% | 5.00 | 50% |
| August 2018 | | 100% | 5.00 | 50% |
| June 2018 | | 100% | 5.00 | 50% |
| March 2018 | | 80% | 5.56 | 44.4% |
| October 2017 | | 50% | 6.67 | 33.3% |
| May 2017 | | 100% | 5.00 | 100% |
| January 2017 | | 80% | 5.56 | 44.4% |
| September 2016 | | 100% | 5.00 | 100% |
| August 2016 | | 50% | 6.67 | 33.3% |
| July 2016 | | | 5.50 | |
| April 2016 | | | 5.00 | |
| February 2016 | | | 5.60 | |
| September 2015 | | | 5.70 | |
| May 2015 | | | 5.00 | |
---