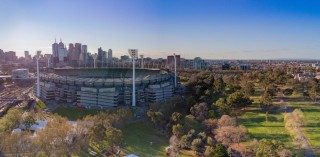 Melbourne to host 2026 Commonwealth Games

The 2026 Commonwealth Games will be hosted in the Australian state of Victoria in March 2026.

The sporting extravaganza will take place across multiple cities and regional hubs, including Melbourne, Geelong, Bendigo and Ballarat (each about 60 - 90 minutes drive from Melbourne.

The Opening Ceremony will be staged at the iconic Melbourne Cricket Ground (pictured) that seats approx 100,000 people. This was the stadium built for the 1959 Summer Olympic Games and is located walking distance from the CBD, with public transport also serving it.

There will be plenty to see around Melbourne. Plenty to do too after the events, as the Melbourne International Comedy Festival and the Melbourne Food & Wine Festival both run from March through April.

Accommodation at current properties will be booked quickly. Thankfully there are new properties due to open in/near the CBD prior to then, including :
* Hotel Indigo (4* by IHG)
* Courtyard West Melbourne (4* by Marriott)
* Melbourne Four Seasons (5*),
* Shangri-La Melbourne (5*) and the
* Hilton Melbourne Square (5*).