Marriott Bonvoy - is the biggest also the best?
Originally published 26 August 2019
Updated 14 November 2019 to incorporate cash-and-points analysis
Updated 3 January 2020 to include tables showing best strategies for points vs cash vs Cash+Points.
Updated 13 February 2020 for February 2020 Marriott Award changes and removal of "no black-out" policy of legacy SPG properties.
Updated 26 August 2020 for new properties' locations.
Updated 2 June 2021 for changes to Points Advance holding period.
Updated 7 October 2021 to reflect launch of All-inclusive by Marriott Bonvoy - part of the Autograph Collection.
Updated 27 October 2021 to reflect the announcement of Bonvoy Dynamic Pricing

This guide is based upon Marriott Bonvoy Terms & Conditions dated October 2021
---
Introduction to Marriott Bonvoy
Since its creation in 2019 from the merger of Marriott Rewards, Starwood Preferred Guest (SPG) and Ritz-Carlton Rewards, there have been many changes to the Marriott Bonvoy program.  In this review, we look at:
the locations and categories of properties available and 
how the loyalty program works,
membership tiers,
how to earn and use points both for tier status and free nights
key features of the program and strategies on how to use them to your advantage
answer your most commonly asked questions.
---
Contents - All about Marriott Bonvoy
---
What is Bonvoy?
Marriott Bonvoy is the loyalty/rewards program of Marriott. With over 7,800 properties and 30 brands following the takeover of Starwood, it is now the largest hotel chain in the world.

The programs of Marriott Rewards, Ritz-Carlton Rewards and SPG were combined late in 2018 and despite some initial scepticism of members and teething problems, at launch the resultant Bonvoy program mostly combined the best features of the earlier programs..

If you had a Marriott Rewards login or an SPG login (Starwood login or Starwood Preferred Guest login), they are now Bonvoy accounts (with new membership numbers, so now you have a Marriott Bonvoy Login. If you had accounts in more than one program, you are encouraged to merge what were Marriott, Ritz-Carlton and SPG accounts into a single account.
Under Bonvoy's T&C's each member is allowed to hold only one account.

---
How does the Marriott rewards program work ?
Marriott Bonvoy is free to join. Members earn points from their stays which can be exchanged for free stays (or other benefits). There are also "elite" membership tiers that have additional benefits for members who have a lot of stays at Marriott properties.
Until January 2023, properties are assigned to "categories" which have different amounts of points required in exchange for a "reward night".
In late 2019, peak and off-peak pricing was introduced and applied to rooms of all properties regardless of category.
Most properties participate in the program, however there are a number of exceptions (T&C 1.2 a) including, but not only, the following:
The Ritz-Carlton,Millennia Singapore
The Ritz-Carlton Reserve properties
Ritz-Carlton Residences, Waikiki Beach participates in the Loyalty Program, but only as follows:
Earn Points or Miles

Redeem Points

Members receive benefits except for the following:
Complimentary Enhanced Room Upgrades,
Late Checkout,
Suite Night Awards, and
Your24TM.
The following partner properties:
○      Hotel Ritz-London - London, UK
○      Bulgari Hotels and Resorts - all locations
---
Marriott Hotel brands and and their positioning
Marriott's brands cover the spectrum of types of stays, from long-term stays, basic hotels through to uber luxurious properties. The table below provides an idea of where each of their brands sits within the marketplace. Properties are located in major cities or resort locations.

With such a large portfolio of properties (more than 7,800 !), there is something to suit almost everyone.

Marriott is one of our advertisers. If you use the above link to make a booking, at no additional cost to youwe may receive a small compensation .


Table 1 - Marriott brands and approximate alignment with some competitor brands (* franchise brand)
Company
Luxury
Premium
Mid-scale
Economy
Accor

Orient Express
Banyan Tree *
Delano
SO/
Sofitel Legend
SLS
The House of Originals
Rixos

Best Western Hotels


WorldHotels


Vīb
BW Premier Collection
Sadie




Glō
Executive Residency by Best Western
Aiden




Centara Hotels & Resorts

Centara Reserve
Centara Grand




Centara
Centara Boutique Collection
Centara Residences & Suites



Four Seasons Hotels & Resorts






Hilton Worldwide
Waldorf Astoria, Conrad Hotels

Hilton, DoubleTree,
Canopy by Hilton,
Curio Collection
Embassy Suites by Hilton

Hilton Garden Inn, Homewood Suites by Hilton,
Home2 Suites
Hyatt Hotels Corporation
Park Hyatt, Grand Hyatt
Hyatt Regency, Hyatt Hotels, Andaz
Hyatt Place, Hyatt House Hotels, Hyatt Centric   


InterContinental Hotels Group (IHG)
Six Senses, InterContinental, Regent
Crowne Plaza, Kimpton Hotels & Restaurants

Hotel Indigo, EVEN Hotels, Staybridge Suites, Holiday Inn Select, HUALUXE Hotels & Resorts

Holiday Inn
Meliá Hotels International
Gran Meliá, ME by Meliá, Paradisus


Meliá, Innside


Marriott International
Ritz-Carlton, Bulgari Hotels, Edition Hotels, JW Marriott Hotels,
St. Regis, Luxury Collection

Renaissance Hotels, Marriott, Autograph Collection, Delta, Marriott Executive Apartment,
Gaylord Hotels, W Hotels, Design Hotels,
Westin Hotels & Resorts, Le Méridien, Sheraton, Tribute Portfolio. Elegant Hotels
AC Hotels, Fairfield Inn by Marriott, Courtyard by Marriott, SpringHill Suites, Residence Inn by Marriott,
Four Points by Sheraton, Aloft Hotels, Element Hotels
MOXY Hotels, Protea Hotels,
TownePlace Suites
Millennium & Copthorne Hotels



Grand Millennium Hotels
Millennium Hotels,
Grand Copthorne Hotels
Copthorne Hotels, M Hotels
Source: extract from wikipedia.org
---
Geographic Spread of Marriott Hotels & Resorts
The majority of properties are in North America (72%), followed by Asia (11%) and Europe (9%).

Chart 1 – August 2020 geographic spread of Marriott properties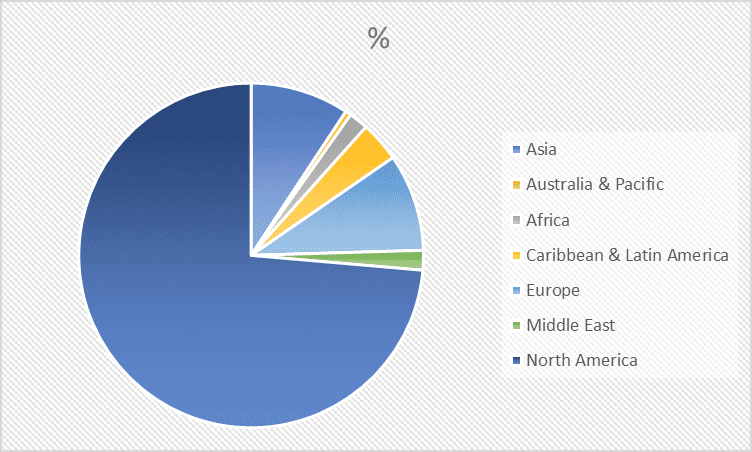 Source: Marriott Bonvoy hotel locations (summarised) where you can find more specific details prior to booking.


Table 2 – locations by Bonvoy hotel categories and points required per free night stay - Bonvoy redemption chart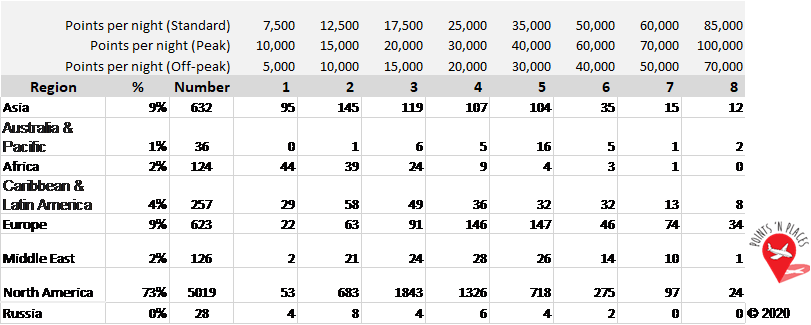 The differences between standard and peak/off-peak pricing varies by property category. Best value are categories 3 and 5 where the differential is +/-14%. Less value is found in category 1 (+/- 33%) and categories 2, 4 and 6 (+/- 20%) followed by categories 7 and 8 (+/- 17% and +/- 18% respectively).
The sweet spot under the peak/off-peak pricing schedule looks be category 5 (peak), which has loads of choices across Asia, APAC, Caribbean/Latin America, Europe and North America. In off-peak, category 6 has potential for very good value for North America, Europe and Asia.
Given that the definition of peak can be changed monthly, once you have identified where you wish to stay, you can check the points required by searching for the property on Marriott.com or the Marriott Bonvoy App and select the use points option. Then select "view rates" to view available redemption options.

TIP: If your desired stay is shown as standard or off-peak, book immediately. Then you aren't exposed to a points increase should the time of your stay be re-classified as peak. If you book at say the standard rate and it happens to later be re-classified as off-peak pricing for your stay, you could cancel and re-book at the lower points requirement (subject to room availability). If you don't quite have the number of points, use Cash+Points to lock-in the requirement & purchase the rest, ideally in a promo.
Popular searches for Marriott Hotels
Marriott hotels in the Caribbean
Marriott hotels in Hawaii
Marriott hotels in Florida
Marriott hotels in London
Marriott hotels in Manhattan
Marriott hotels in New York
Marriott hotels in Cancun
Ritz Carlton London
Marriott Marquis
Marriott Aruba
Marriott Las Vegas
If you wish to earn points with your selection, or to utilise the Marriott Best Rate Guarantee, you must book direct with Marriott
or through a Travel Agent (but not an OTA such as Expedia etc).
---
Marriott Bonvoy Elite Membership Tiers & Benefits
As well as general membership, there are 5 tiers of Elite Membership (and 2 more if you include lifetime versions of status).
Assessment is based on stays made during a calendar year. Free night award stays count towards tier status (not only paid stays).
Table 3 – membership tier and qualifying criteria (T&C 4.2.b)

Once tier status is earned, you are upgraded immediately. The new tier status lasts from the date of upgrade to the end of the following calendar year. You must requalify in that following calendar year, or your tier status will be downgraded one level (eg Gold to Silver).

This is a significant benefit, as one quiet year will not lead to you losing status entirely.


Table 4 – benefits by Marriott Bonvoy status level
| | | | | | | |
| --- | --- | --- | --- | --- | --- | --- |
| Benefit | Marriott Bonvoy Member | Marriott Bonvoy Silver Elite status | Marriott Bonvoy Gold Elite status | Marriott Bonvoy Platinum Elite status | Marriott Bonvoy Titanium Elite status | Marriott Bonvoy Ambassador Elite status |
| Complimentary Internet access (* enhanced) | | | * | * | * | * |
| Member rates | | | | | | |
| Mobile check in / services | | | | | | |
| Ultimate reservation guarantee | | | | | | |
| Points bonus | | 10% | 25% | 50% | 75% | 75% |
| Late check out (s.t. availability) | | | 2 pm | 4 pm | 4 pm | 4 pm |
| Dedicated elite support | | | | | | |
| In hotel welcome gift (varies by brand) | | | Points | Points, Breakfast offer or amenity | Points, Breakfast offer or amenity | Points, Breakfast offer or amenity |
| Enhanced room upgrade (s.t. availability) | | | | Includes select suites | Includes select suites | Includes select suites |
| Lounge access | | | | | | |
| Guaranteed room type | | | | | | |
| Annual choice benefit | | | | 5 suite nights or gift awarded upon attaining status | 5 suite nights or gift awarded upon attaining status | |
| 48 hour guarantee | | | | | | |
| Ambassador Service | | | | | | |
| Your24 | | | | | | |
.

The "sweet spot" tier of the program is Platinum status. At this level, complimentary breakfast and room upgrades are available. Levels below this (the mid-tiers) are less compelling than other chains (eg Hilton Honors has complimentary breakfast for its Gold members – Marriott Bonvoy does not).
Member Rates
All member have access to special member rates. These are a discount of at least 2% on weekdays and up to 5% on weekends. The Ritz-Carlton, St. Regis, and EDITION offer 2% all days of the week.
The Member Rate is applied to the Participating Property's lowest applicable available public rates for non-premium rooms. It will not apply to groups of ten (10) or more guest rooms.
Marriott Bonvoy (covid-19) Points and Status Extension
Marriott's Bonvoy like many other programs, has extended the life of its points and status tiers, so that members are not disadvantaged by the difficulty in redeeming points due to travel restrictions during the coronavirus crisis.
Points Expiration: The expiration of Points is paused until March 31, 2022. At that time, your Points will only expire if your account has been inactive for at least 24 months (as usual).
Free Night Awards: Members who had a Free Night Award (FNA) that had an original expiration date in 2020, or which would have expired before January 2, 2022 will now be able to redeem it through 3 January 2022. Free Night Awards with an original expiration date prior to 2020 will not be eligible for the additional extension.  
Suite Night Awards: Elite Members who had Suite Night Awards (earned in 2019 as part of the 50- and 75-Night Annual Choice Benefit) with an expiration date of December 31, 2020 were extended to December 31, 2021.
Tier Credits: Members who earned Elite Status in 2020 received a onetime deposit of 50% of their tier's annual Elite Night Credit requirement in their Account in February 2021. These credits will help members attain tier status in 2021 and will also count towards achieving the 2021 Annual Choice Benefit, as well as achieving Lifetime Elite status.
---
Earning Marriott Bonvoy points
How many Bonvoy points are earned from a stay?
The main way to earn points is through Qualifying Stays (for your own and up to 2 additional rooms, provided that the member pays for all) at Marriott properties. Stays at most brands will earn 10 Bonvoy points per USD spent (see table 5 below).
Points can also be gained through in-house spending (T&C 2.1.b) during a stay (some other programs only reward you for the room rate), Bonvoy tours, selected flight partners, car hire, cruises and credit cards.
Points may be earned on charges for food and beverages without a stay, as long as the charges are more than USD 10 and are not associated with an event.

Table 5 – points earning rates - Bonvoy points per dollar spent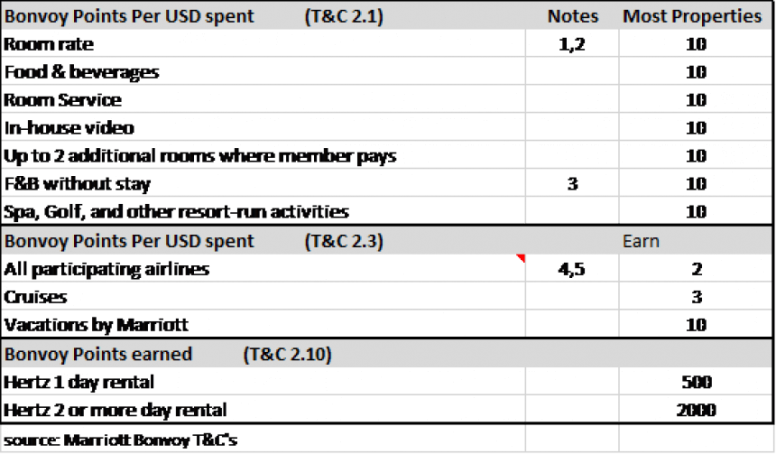 Notes:

For Element, Residence Inn, TownePlace Suites and Homes & Villas by Marriott International- 5 points per USD
For Marriott Executive Apartments - 2.5 points per USD
Tier bonus only applies if the Food & Beverage spend is part of a member stay
United Airlines Rewards Plus (Titanium & Ambassador only) earn both miles & Bonvoy points
Emirates World Rewards members earn 1 Skywards mile per USD spent + Bonvoy points
To earn points (and tier status) from a stay, you must book though Marriott reservations. If you use an online travel agency (Expedia etc), bookings will not earn recognition.  Reservations can also be made by dedicated Bonvoy telephone numbers - handy if you have queries about particular properties.
Awards redemptions do not earn points.
Credit Cards can earn Marriott Bonvoy points
(T&C 6)
Points from credit cards can be earned directly from eligible purchases (via a co-branded hotel credit card) or you may be able to transfer points from a card at a set transfer rate that may vary across different countries of issue.
Note: You should do your research or obtain advice to determine appropriateness to your circumstances before applying for any credit product.
If you live in the US, you can use a dedicated Marriott credit card (with varying qualification criteria). Each Bonvoy credit card may have a differing annual fee, points earning rates and they often have a welcome bonus for new applications (including 15 elite night credits in one instance). If you are a cardholder of one of these cards, they can provide a way of building your points balance.
In the US, Canada, Mexico, Japan, the UAE and in the UK, there are dedicated Bonvoy credit cards - including Marriott Bonvoy American Express in the UK and a choice of 4 dedicated cards in the US. Do your research or obtain advice before applying for any credit product.
In Australia, there are no dedicated Bonvoy credit cards available.

For American Express cardholders, AMEX Membership Rewards points can also be transferred to Marriott Bonvoy points. Conversion rates vary by jurisdiction (and perhaps card eg Australian Gold Amex points convert to Bonvoy points at the rate of 3 for 2 ) so check with your local program's terms and conditions.
Double dipping for Marriott Bonvoy points !
A significant benefit of the Bonvoy program is Your World Rewards feature. This provides the ability to "double dip" with two airline programs (where you meet their qualification criteria).

Bonvoy offers a crossover benefit where from a stay you earn points for Bonvoy AND miles with either Emirates or United Airlines. You can also earn miles on the respective airline program AND Bonvoy from flights. If either of the airline programs suit you (and you have the minimum tier status required), this can be a great way to accelerate your points building.
Buying Marriott Bonvoy Points
(T&C 2.9)
All members can buy Marriott points (or another member may buy and gift them) through their points-buying service managed by points.com.
The usual rate is USD 12.50 per thousand, with a minimum transaction of 1,000 points;
You may purchase up to a maximum of 50,000 points in any calendar year (although this limit may temporarily increase during promotions).
Note that to be eligible to buy points, you must have already been a member for 30 days..
Points purchased are "bonus points", not base points and do not help you qualify for elite tier status.
Marriott Bonvoy Points Promotions
Marriott Bonvoy has regular promotions. I don't recommend buying speculatively, or hoarding them, but if you buy during promotions for an intended stay, they can really slash the cost. Especially if used in combination with the PointSavers or Cash+Points feature of the program.


---
Retaining Marriott Bonvoy points
Bonvoy points expire after 24 months if there has been no activity in the member's account (T&C 1.6.d). The account may be closed and all points forfeited after 5 years of inactivity. Fortunately, the program allows for a wide view of "activity":
paid stays by the member
redeeming points for stays
redeeming points for other purposes such as "experiences"
purchasing points - minimum amount is 1,000 points at a total cost of USD12.50
converting points to or from miles of an airline rewards program. For some airlines this satisfies their "activity" requirements at the same time.
A member giving or receiving bonvoy points as a gift or transfer does not count as activity.
---
Redeeming Marriott Bonvoy points
Using points for free nights is made easier by the "no black-out nights policy" for members, which means that participating properties have standard rooms available every day for Award Redemptions (T&C 3.2.n), subject to:

Bulgari properties do not participate I Marriott Bonvoy at all
Marriott Executive Apartments® and ExecuStay®.do not offer points redemptions (only earning)
All brands may limit the number of standard rooms available for redemption on a limited number of days. Prior to February 2020, this limitation did not apply to legacy SPG brands.
The following properties still do not participate in the "policy" and so may have black-out periods:

Boscolo Exedra Nice, Autograph Collection
Carlo IV, The Dedica Anthology, Autograph Collection
JW Marriott Scottsdale Camelback Inn® Resort & Spa, Scottsdale, AZ
Marriott Vacation Club and Marriott Grand Residence Club – all properties
Rome Marriott Grand Hotel Flora, Rome, Italy
Waikoloa Beach Marriott Resort & Spa, Hawaii
Wailea Beach Resort – Marriott - Maui, Hawaii
Hotel Cala di Volpe, a Luxury Collection Hotel, Costa Smeralda, Italy
Hotel Pitrizza, a Luxury Collection Hotel, Costa Smeralda, Italy
Hotel Romazzino, a Luxury Collection Hotel, Costa Smeralda, Italy
Homes & Villas by Marriott International
North Island, a Luxury Collection Resort, Seychelles

Effective from mid-September 2019, Marriott has introduced a 3-tier redemption scale – standard (the January-2019 values) and peak and off-peak periods. The peak and off-peak periods will vary by property.

Marriott can also re-define these periods on as frequently as on a monthly basis. To see where the property you are intereted in lies for your preferred timing, you first need to use your Bonvoy sign in, then search for the property.
Rooms at higher category properties can cost a lot of points.
Table 6 – cash equivalent of points required per free night stay. Use cash not points if less than the amount shown.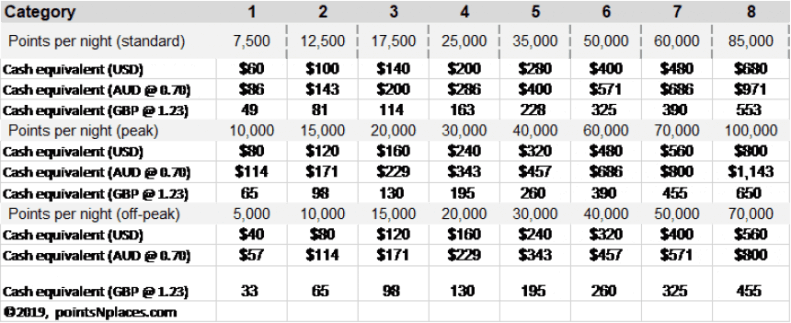 These redemption rates also apply to the All-inclusive by Marriott properties, although it is possible that some will have rates higher than those applicable for Category 8. (All-Inclusive by Marriott T&C 4).

You should only use points to make your booking where the cost is less than the cash price required. For redemptions, our estimated Marriott Bonvoy points value is USD 8 per thousand (US 0.8 cents each). If you are getting less than this, you are better to pay the cash price.

TIP: Generally, for the same number of points, you could stay off-peak at a category 4 property or peak at a category 3 property. The same pattern holds true for other categories, except categories 6 and 7. Category 7 off-peak (50,000 points) offers better value than category 6 (60,000 points) at peak periods.
PointSavers Awards
(T&C 3.5)
PointSavers Awards offer point savings of up to 20% on standard Award Redemption rates and are available for limited periods of time. Members can redeem their points for discounted stays at participating PointSavers Properties when and where available. When available, the discount in number of points required can be very attractive. You may even like to buy more Bonvoy points to maximise this benefit.
Once all Marriott properties have moved onto Bonvoy dynamic pricing, we anticipate that the table as below, will be replaced simply by offers priced at a discounted amount of points for particular dates.

Table 7 – points required for PointSavers awards where available
| | | | |
| --- | --- | --- | --- |
| Category | Off-Peak | Standard Pricing | Peak |
| 1 | 4,000 | 6,000 | 8,500 |
| 2 | 8,000 | 11,000 | 13,000 |
| 3 | 12,000 | 16,000 | 18,000 |
| 4 | 17,500 | 22,500 | 27,500 |
| 5 | 27,500 | 32,500 | 37,500 |
| 6 | 35,000 | 45,000 | 55,000 |
| 7 | 45,000 | 55,000 | 65,000 |
| 8 | 65,000 | 80,000 | 90,000 |
Cash-and-Points
An alternative to paying with fully with either points or cash uses Bonvoy's cash-and-points feature. This allows you to pay a fixed cash amount with a variable points component only. Based on the same caluation of Bonvoy points as above (approx. US 0.80 cents each):
Points-only is better than cash-and-points for all off-peak nights, at all property categories
Categories 5 and 6 properties are cheaper using cash-and-points rather than points-only (for both  standard and peak nights)
Categories 3 and 4 properties are also cheaper using cash-and-points rather than points-only, but only at peak times.
Selecting cash-and-points for other options could end up costing you as much as twice their valuation, which is clearly poor value.
To decide the cheapest way to book the room you desire, you need to know the cash price and how many points are required for your chosen room (determined by its category). Then you can compare the cash-only, points-only and cash-and-points options.
Note that cash + points redemptions:

do not earn Bonvoy points on the cash portion - only the points portion.
do not qualify for the pay for 4, stay for 5 benefit.
do earn tier points, counting towards your tier status assessment (as do other award stays).
How to use Marriott Free Night certificates
Various credit cards provide a Marriott annual free night certificate upon each anniversary of the account being opened. These certificates made Marriott category 4 hotels very popular.

Now that rooms have a 3 tier pricing model, the "value" of these certificates varies with the hotel category, depending upon whether a room is priced as peak, off-peak or standard.

The table below should help clarify this. Once you have an idea of which categories you can target for your redemption, you can find where you would like to stay and redeem your certificate. The best value Marriott card free night comes from any of the three cards with a 50,000 points Marriott certificate limit, when used for an off-peak stay at a category 7 property!
Once Marriott properties move fully to Bonvoy dynamic pricing (expected 31 December 2022), the value of the FNC's will be far more variable, as they are based on points, rather than category (which Hyatt uses for its FNC's).


Table 8 – maximum points redemption of free night certificates and hotel categories

Stay for 5, pay for 4
A very attractive feature of the program is the "stay for 5, pay for 4" benefit for stays purchased with points. This was previously the Bonvoy 5th night free benefit (effectively a 20% discount on a 5 night award stay) but with the introduction of peak/off-peak pricing, it is the cheapest night, rather than the fifth night that is now free. So while the benefit may be a discount of less than 20% now, in practice this will only affect stays that straddle different peak/off-peak periods.
This can apply to a Award Redemption booking or even a PointSavers booking. This would make a very good use of your points for that well-earned break!


Points Transfers to other Members
(T&C 2.8)
Marriott Bonvoy allows you to share points with other members. .You can transfer a minimum of 10,000 points in a single transaction, up to a total of 100,000 points per calendar year. Note that both parties must have been members for at last 30 days with qualifying activity (or 90 days without activity) prior to any exchange being available.
This "pooling" of points is an attractive new feature, providing flexibility and the ability to reach your desired award night stays sooner.
To request a transfer of points, just contact Member Support .
Points Transfers to Airline Miles (& vice versa)
Should you need additional frequent flyer miles, you can exchange Bonvoy points for airline miles with over 40 airline loyalty programs. The exchange rate for most airlines is 3,000 points to 1,000 miles. Exceptions are Jetblue (6,000 points to 1,000 miles), Air New Zealand (200 points to 1 mile) and United whose RewardsPlus bonus means you'll get 3,000 points to 1,100 miles.
You can transfer 3,000 to 240,000 points per day. Aim to make transfers of a minimum 60,000 points each time.
Bonus points for transfers to Airline Partners

If you transfer 60,000 points or more in a single transaction, Bonvoy will provide a bonus 5,000 points for every 60,000 points (an 8.3% bonus). So try to get to 60,000 points prior to any transfer.
You get a 10% mileage bonus when you transfer your hotel points to United MileagePlus award miles (3,000 points to 1,100 miles).
, you could cancel and re-book at the lower points requirement (subject to room availability). If you don't quite have the number of points, use Cash+Points to lock-in the requirement & purchase the rest, ideally in a promo.
Other uses for points
Other than hotel stays, Bonvoy points can also be used for:

room upgrades,
in-house spending (food and beverages, resort activities such as spa, golf etc)
travel packages,
cruises
TSA Precheck applications (in the USA),
airport lounge access and
retail gift cards.

Additionally, Marriott offers a variety of experiences ("Marriott Moments") that members can use points to purchase, from tickets to sporting events to backstage concert passes. These experiences are very difficult to access normally, so this feature (now starting to be copied by competitors) can be a very good use of your points.
 To use points to book a room online, ensure that you select the box for "use points". But what if you don't have quite enough points to make the booking you desire?
How to top up your Marriott Bonvoy points for a dream redemption
You can buy Marriott points (or another member may buy and gift them) through their points-buying service managed by points.com.
This is a feature whereby members who seek to make an Award Redemption with an insufficient point balance may make the Award Redemption and either (1) purchase points or (2) gain sufficient points to use for full payment of the Award Redemption where the booking is made at least thirty (30) or more days from the arrival date, and held either (i) for up to sixty (60) days from time of booking, or (ii) no later than fourteen (14) days prior to the Member's arrival date, whichever occurs sooner.
Failure to redeem the points in time results in forfeiture of the points and the booking paid for in cash at the prevailing price (ouch). Points Advance can only be used for stay-related redemptions (Free Night Awards, Upgrade Awards, Cash + Points Awards) not for other redemption options (flights, moments etc). Importantly, Points Advance locks in the booking, but not the points payable. If Marriott changes the property's booking period from standard to peak, you will be required to pay the additional points.
A maximum of 3 Points Advance bookings per member are permitted to be maintained at any one time.
Points Advance bookings are not available for Homes & Villas by Marriott (T&C 8.2) .
 is a similar feature where the redemption has a fixed cash component (based on the property's category) and the remainder is made up of points, the amount of which varies depending on whether the booking is standard, peak or off-peak. An important difference from Points Advance is that as you pay the Cash + Points upfront, you lock in both the booking and its cost. Note that cash + points redemptions:
do not earn Bonvoy points on the cash portion
do not qualify for the pay for 4, stay for 5 benefit.
do earn tier points, counting towards your tier status assessment (as do other award stays).
How to best redeem Marriott Bonvoy points or cash for stays
Our recent case study illustrates how good use of the bonvoy features can save you hundreds, without even needing to rely on purchasing points during promotional periods.
To decide which is the best strategy to use to book your desired property at the lowest price, first find the cheapest price you and (noting that this booking may be non-cancellable/non-refundable).
Then compare this price against the cash equivalent of the best points strategy to use. These are shown (in USD) in the detailed tables in Appendix 1.
Rules of thumb for the best points strategies are that:
Stay for 5, pay for 4 is always the cheapest, if your stay is for a multiple of 5 nights
Points Saver when available for your preferred property is generally the second best strategy. Followed by
For properties in Categories 1, 2, 7, 8: using existing points.
---
Observations and Comments - Marriott Bonvoy
Overall the Marriott Bonvoy program has tried to keep the best of its parent programs – Marriott Rewards and Starwood Preferred Guest or SPG.

Some of the very aspirational properties that are quite pricey in points terms, but some simple activity strategies can prevent points from expiring while you save them for that (very) special trip. For the properties at which I have stayed, I have preferred the Starwood brands over the Marriott ones in the same category, so I would tend to favour the SPG hotels where there is a choice.
The stay for 5, pay for 4 benefit remains a good feature of the program, as does the cash + points feature. The no black-out days policy appears attractive on paper, but in practice the number of nights made available can be limited by each property (across all brands).. Some properties have been known to deliberately restrict what they regard as a "standard" room so that they can limit supply that way too .
Marriott Moments is also a great feature and one that Hilton and also Hyatt are copying. Imitation is the sincerest form of flattery.
The introduction of the peak/off-peak pricing has reduced the benefit of the (still unique) Points Advance feature due to the lack of certainty on price payable.
The program's range of properties and (either city or resort) locations is unsurpassed.
Overall, Marriott Bonvoy is a solid program with a great range of options. But in our What is the Best Hotel Loyalty program study, we found some competitors could be a better fit, depending upon a traveller's particular patterns. Less so at the upper tiers of Titianium and Ambassador, but certainly at the lower tiers.

For the greatest flexibility (especially if you want the option to stay anywhere in the world) Marriott Bonvoy is a very solid choice, but may be more expensive than other choices for specific traveller types. It's special features means it remains attractive, but the "enhancements" of the peak/off-peak pricing in 2019 and the devaluation of points effective from March 2020 have significantly reduced its "stand-out" attraction relative to other programs.
---
How to join Marriott Bonvoy
You can complete this form to open a Marriott Bonvoy account.

Or….you can be introduced via the refer-a-friend scheme & both receive 2,000 bonus points on your first 5 stays made within the first 365 days after you join. Email me to request more details.
If you already have earned elite tier status with another program, you could request a Bonvoy status match. This is explained, together with a table showing what you can reasonably expect from a status-match from your current program, in the What is the Best Hotel Loyalty program study. To proceed to request the status-match, you can use the information (and hints) provided there.
If you are an owner of a business, you will gain even more benefits by utilising Marriott Bonvoy Events. There is no need to register separately for this program.
---
FAQ - Marriott Bonvoy