You are here: News, Views and FAQs › Rail News & Views

News and Views (Rail)
By Neil McPherson
27 September 2019
New Caledonian Sleeper trains to serve Highlander routes from October 2019
The new Caledonian Sleeper trainsets will now be rolled out onto routes to Inverness and Aberdeen from next month.
The new trains had originally been intended to operate the routes from July 2018, reported The Scotsman. However numerous teething issues, delayed their introduction until October 13th.

Unfortunately the introduction of the new Highlander route trains will have missed the peak tourist season.
In the case of the Inverness route it means many travellers this year will miss those glorious Highland views in the hours leading up to their arrival and departure from Inverness.
The trains are unashamedly pitched at the luxury end of the market after Scottish ministers decided against refurbishing the 40-year-old existing rolling stock and instead significantly raised the bar on quality to create a service "emblematic of Scotland".

But such quality doesn't come cheap, with room prices starting at between £140 and £335 one-way for solo travellers.
The club car for food and drink is served by a full kitchen, compared to the old sleepers which just had microwaves.

Alastair Dalton of the Scotsman reviewed the new Caledonian in May 2019 and noted that:

Food in the new-look Club Car was impressive and reasonably priced – "my two courses cost £16".
In the cabins, the "beds were comfortable and there is a good range of lighting".
The new fleet includes cabins with double beds, showers, and en suites for the first time, including double rooms accessible to wheelchair users that have a lower basin.
The train also features free wi-fi and charging sockets, and hotel-style keycards to access cabins.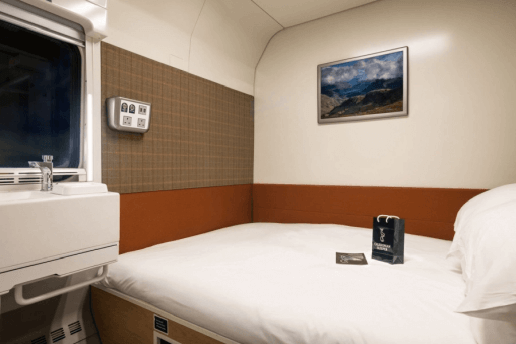 A sleeper cabin on the Caledonian © Charlie Fraser-Hopewell
Observations & Conclusions
At a time when sleeper trains are being removed from many routes in continental Europe and with increasing concerns about the environmental impact from flying, the new Caledonian route to Inverness via Edinburgh in particular provides an increasingly rare opportunity to experience picturesque scenery with the more relaxed pace and romance of luxury rail travel.

For travellers with wheelchairs, boarding and sleeping is likely to be far easier compared to the more restrictive size of an airplane.
For similar amenity as a Business-class flight (with lay-flat seats), luxury train trips can offer better value for folk able to find the appropriate balance of time, cost and traveller wellness.

For example, an early BA Business-class flight between London and Edinburgh (with the associated early alarm, uber or drive to airport and parking, check-in etc), has fares starting at GBP 145 pp - the same as a solo traveller on the Caledonian who can dine, sleep in a bed overnight, then shower and arrive refreshed in the morning.

For leisure travellers wanting to see countryside and spectacular scenery, this luxury train journey in Scotland certainly fits the bill, whether you depart from Edinburgh, or south of the border.

All aboard!