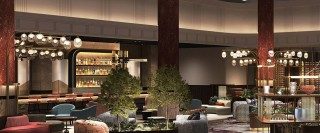 Australia's First Kimpton Hotel opens for Valentine's Day 2022

I'm pleased to say that one of my favourite hotel chains has opened its first Australian hotel today, on Valentine's Day.

The Kimpton Margot, Sydney is a gorgeous repurposing of an art-deco ex-public building into a luxury hotel. There is a rooftop pool (for guests only) and a separate rooftop bar to enjoy those balmy evenings.

No water views but very centrally located on Pitt Street within an easy walk of Town Hall Rail and Light Rail stations, Hyde Park and Chinatown.

IHG Rewards members can currently book an awards stay for 33,000 points per night – a premium compared to the 27,000 points required at the (older but still very nice) InterContinental Sydney that is closer to Circular Quay.

Checking my points balance right now…

For bookings with elite benefits included, make a time to talk with our associated travel agency.