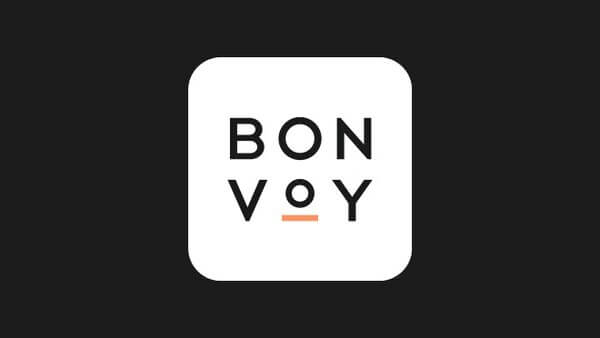 2020 Marriott category changes - Bonvoy'd (& annoyed)
16 February 2020

Updated 3 October 2020: Not all of the planned changes discussed below actually eventuated, as the covid-19 crisis hit, severely impacting travel globally...
Updates:
Late in 2021, Marriott announced it introducing dynamic pricing and categories would no longer be used.
Introduction
It's around this time each year that Marriott (and others) update the categories of their properties and/or the points required per reward night for those categories. For the 2020 Marriott category changes, I was expecting (hoping?) that the changes would be lighter than previously. I had thought that the introduction of peak, off-peak pricing in September 2019 would provide sufficient flexibility for properties to adjust their points requirements.
However…
Recently Marriott announced two major updates to the Bonvoy program, (further details on the program are contained in our Marriott Bonvoy guide) :
1. Increased "inventory controls" – more properties will now have blackout dates;
2. From 4th March 2020, 29% of properties participating in the Bonvoy program will change categories – 9 % to a lower category and a massive 22% to a higher, more expensive category. A total of 2,185 properties are changing categories!
The latter change is massive because in recent years, total category reclassifications have impacted usually 10% to 15% (ie in both directions) of all properties.
In 2020 the move to a higher category is far greater than the proportion of properties that in the past moved in both directions.


Bonvoy members' initial reaction likely to be similar to this one of John McEnroe. Credit: Official Wimbledon youtube channel
Overview
The movements within the 2020 Marriott category changes are also very uneven, so it's not just a rebalancing, it's a strong overweighting to higher categories and increased points requirements.
Were more than a fifth of all participating properties really under-priced last year?
Unlikely, I would think.
There has been much criticism of Marriott since merging the Ritz-Carlton Rewards and SPG programs, resulting in the disparaging term "bonvoy'd" being coined.
These latest changes do nothing to overcome the increasing dis-satisfaction of Bonvoy members. Many see Bonvoy as not a loyalty program, but merely another opportunity for Marriott to reach deeper into its Bonvoy members' purses and wallets.
Initially, the Bonvoy launch seemed to include many of the best features of SPG and Marriott Rewards. Slowly but surely over the 18 months since then, Marriott seems to be removing the points of value in the Bonvoy program that attract and retain members in preference to the other programs available.
Read on as we dig into the details of the changes, the properties affected and what it likely means for you (and your future loyalty).
What is the impact of the changes?
The complete list of 2020 bonvoy category changes is available on the Marriott website.
The changes affect 2,185 properties in total, of which there are 3 1/3 times as many increases as decreases (1,686 vs 499).
Categories with most change
There will be big changes in the number of properties available in some of the categories. There will be fewer properties in categories 1 and 2, effectively pushing over 400 of those existing properties into higher categories and more points required for free nights.
The number of Marriott category 5 hotels will also decrease, impairing availability for people with award certificates from credit cards (generally 35,000 or 50,000 points).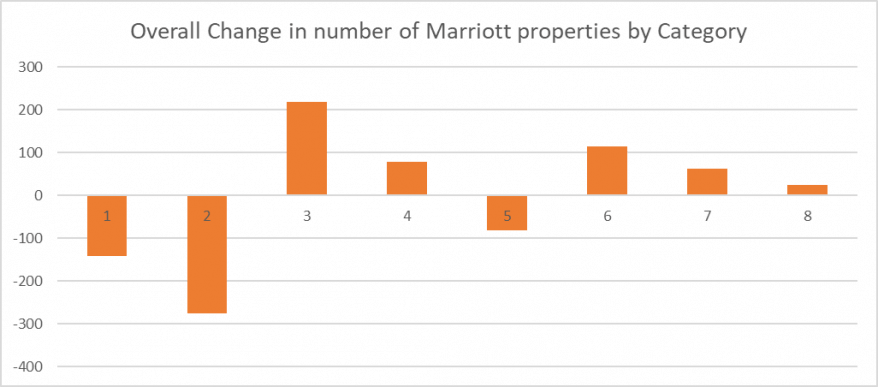 Brands most affected
Ritz-Carlton fans will be disappointed, as its properties have been significantly affected. Only 1 property was reclassified to a lower category, while 27 were moved to a higher category. Bargains for this luxurious brand will now be much harder to come by.
On the other hand, the Delta brand had the largest net decline (6 properties up and 16 down).
Of the legacy Starwood brands, only two brands had more properties move down in category than move up (Le Meridien 16 up and 18 down) and Sheraton (74 up and 80 down). All its other brands had overall moves upwards, most notably Westin and Aloft.
Members with young families will also be disappointed. Marriott legacy brands of Residence Inn and TownePlace Suites both had many more properties increase in category (and cost) than decrease.
Courtyard and Fairfield Inn were also heavily impacted.
The chart below shows where the impact of the "category push" will be felt the greatest - Courtyard, Residence Inn, Fairfield Inn, Springhill Suites and TownePlace Suites.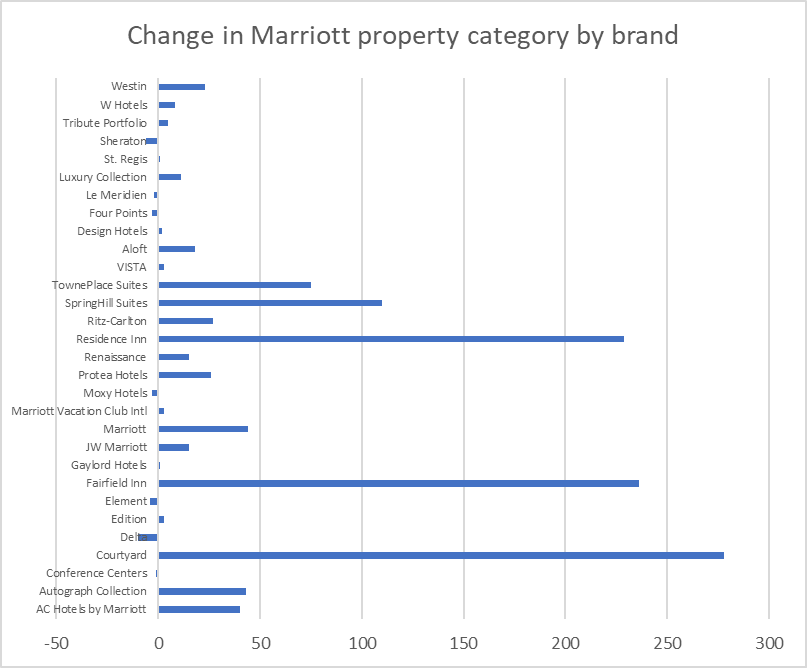 February 2020 Marriott category changes - number of properties affected by brand
Regions most affected
Only two regions had more properties classified to lower categories than higher ones - Oceania (1 more moved lower than higher) and the UK (3 more moved lower than higher). In the UK, the reclassification upwards was mostly for properties in the City of London, with properties further afield reclassified into lower levels. In Australia, the east coast properties were those that were reclassified upwards, while west coast ones (including the Perth St Regis) were reclassified downwards and now look better value.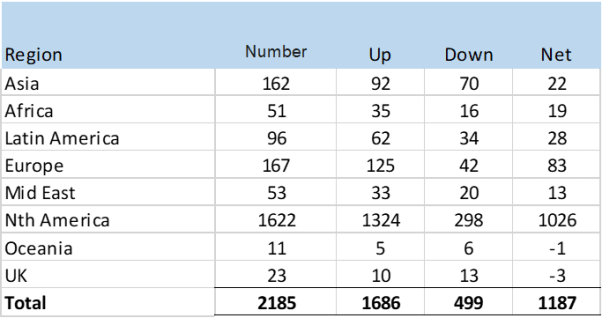 Disappointingly, the "aspirational stay" properties all fared badly.
Observations
The increased cost from the 2020 Marriott category changes is savage, if your preferred property is one affected by the category moves upwards.
The table below shows how significant the increased cost (in points) will be when you redeem your hard-earned points. For a category 6 property moving to category 7, the increase in peak season is "only" 17% compared to 2019. For most other single category increases, the rise is 40% or more.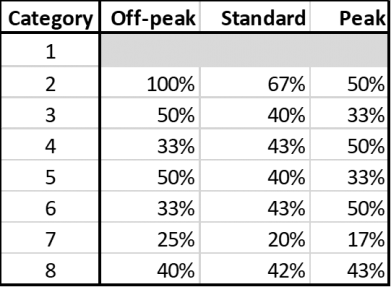 Regular readers will recall I used a vacation at the Sheraton Grand Gold coast as a recent Bonvoy case study. This is one of the Sheraton properties that will move upwards from Category 5 to Category 6.
In the case study, the stay was during peak pricing, so the same vacation next time will cost 50% more if points only are used. Even at standard rates the increase is 43%. Not many items can announce at short notice an increase in their cost by 50% with no change in features/benefits and retain their value in a consumer's eyes.
Many other folk will see similar increases when they come to make their planned redemptions.
The other thing with so many and large increases is that when a Marriott property cost goes up in points required for a free night, comparable properties in other programs instantly become more attractive.
Is there any upside?
Some commentators have tried to put a positive spin on the potential increased availability of rooms, but the well-respected blogger Gary Leff has basically shot down these arguments in a recent article on View From the Wing.
What can you do?
1. Purchase Marriott points during promotions, rather than earning them through stays. Fortunately, promotions are fairly regular, providing opportunities.
2. Points and Pay may become more relevant if the cash price at the time you want to stay is reasonable, as you "buy" the points at a fair price and the booking price is locked in
3. Points advance will no longer help you lock in a future (soon to be more expensive) booking now. This books the room, but the points price isn't locked in until the date the required amount of points is paid in full (this change was introduced from Sept 2019).

4. Look harder to see if Marriott's friends and family program and its discounts may be relevant to you.
5. Remain with Marriott if you don't want to give up your preferred properties (eg SPG legacy ones), BUT, look for other ways for advantaged access to Marriott (and perhaps other) properties:
Travellers in the Asia Pacific region can enrol instead in the paid subscription Club Marriott program for consistent elite-style benefits on paid stays (discounts, room upgrade certificates and enhanced F&B discounts). You can accrue your rewards as Airline Miles. Better yet, earn as Bonvoy points and transfer them later (especially if you are in either of the dual-earn programs) into your preferred program instead. This means you will possibly move up tiers and earn tier bonuses, before you later move the points.
Mastercard has its similar Mastercard Luxury Hotels & Resorts program. World Elite cardholders can also receive an instant upgrade to Black elite membership - the top tier of GHA's Discovery program. World cardholders can also receive an instant upgrade to Platinum elite membership - the 2nd top tier of GHA's Discovery program.
For business owners, the paid subscription Founders Card has a curated list of luxury hotels (including some of Marriott's Ritz-Carlton and W Hotels) with discounted prices and/or room upgrades. Note: For this one I receive loyalty points at no cost to you should you choose to subscribe using my Founders Card link.
AMEX Platinum includes Marriott Bonvoy Gold status as a cardholder benefit. Of course it and other credit cards offer tier status in other programs too...

6. Change loyalty program. Hilton Honors and especially World of Hyatt are perhaps the most directly comparable and Hilton Honors has a status-matching program.
For European travellers, Accor offers a wide variety of properties, including the brands of Raffles and Fairmont. No status-matching is offered though, as its loyalty program provides rebates rather than points for stays.
You can also still find smaller programs for boutique properties where the benefits of even the base level of loyalty membership puts some of the larger programs to shame. SLH, WorldHotels and iPrefer are good places to start looking for top-end properties. GHA Discovery also has a good range of properties, ranging from mid-range to top-end.
Conclusions
Among the larger programs, Hyatt (with the SLH alliance and the acquisition of Alila) and Hilton are looking ever more appealing relative to Bonvoy.
But I am also attracted to some of the smaller programs that are keen for your business and have attractive loyalty programs.
What do you think? Have you yet reached the point where you have decided to move?
Or will you still use Marriott Bonvoy in a lesser role, with another program doing more of the "heavy lifting" for your travel needs?
Perhaps you are a heavy user of Marriott Bonvoy and will continue to reap elite benefits at your favoured locations without the need for a paid subscription to Club Marriott. At least now you can make an informed decision based on alternatives available.
I know what I will be doing...
---