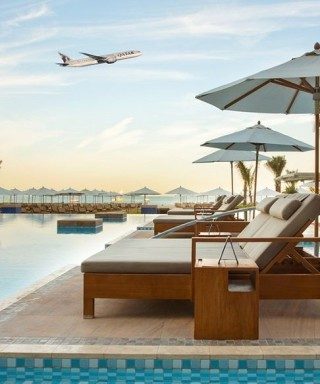 Accor and Qatar now offer points double-dipping

Accor Hotels just launched another partnership, this time with Qatar Airways.

Similar to the Miles + Points partnership with KLM/Air France Flying Blue , Accor with Qantas and other crossover programs (eg Marriott and Emirates; Shangri-La and Singapore Airlines; Hyatt and American Airlines), you can now double dip on Accor hotel stays and Qatar Airways flights. Here are the details of the partnership and now to earn both Reward points and Avios.

Accor and Qatar Crossover partnership

Accor Hotels and Qatar Airways have already had a partnership, but now this partnership is being improved. Now, members of either loyalty program can earn both ALL Reward points and Qatar Avios on either flight and hotel bookings.

First, you need to link your ALL account with your Qatar Airways Privilege Club account. You can link your accounts either via Accor Hotels or Qatar Airways.

If you already took advantage of the ALL and Flying Blue partnership, you'll need to choose which airline you want to double dip with. You can only linked your ALL account to one airline at a time. If you linked your ALL account to Flying Blue in the past 12 months, you will need to wait until the end of 12 months before you can link to Qatar Airways.

Double-dipping between Accor Hotels and Qatar Airways

After you link your Accor Live Limitless and Qatar Airways Privilege Club accounts, you will start earning both ALL Reward points and Avios on your stays and flights:
For every US$2 spent on Qatar Airways flights, you will earn 1 ALL Reward point, in addition to the Avios you earn on the flight.
For every €1 spent at Accor properties, you will earn 1 Avios in your Qatar Airways Privilege Club account, in addition to the regular ALL Reward points earned for your stay.
Make sure to provide your applicable account membership number at booking or check-in to receive points and Avios.
Once you have accrued your Avios and Reward points, you can transfer from one program to the other:
Convert 4,500 Avios into 1,000 Reward points.
Minimum conversion: 2,000 Reward points = 1,000 Avios.

T&C's apply, including:
Members who do not have a Privilege Club membership account before linking accounts will need to take an extra step. You will only earn Avios on hotel activities after performing an international activity. That can be your first stay outside of the country of residence in your ALL loyalty program account or after your first flight on Qatar Airways (all of which are international).
All domestic stays within 12 months before the first international activity and after the account linkage will be retroactively rewarded with Avios. Avios earned retroactively on stays in a given year will be credited no later than December 31 of that same year.
To remain eligible for the accrual of Avios on eligible stays, the members will have to perform an international activity at least every 12 months.
Fast-track to Elite Status
The Accor and Qatar partnership includes a fast track to elite status in both rewards programs. Accor elite status members will earn Qatar Airways Privilege Club elite status after their first qualifying flight:
ALL Gold status members will receive Privilege Club Silver status;
ALL Platinum status members will receive Privilege Club Gold status.; and
ALL Diamond status members will receive Privilege Club Platinum status.
Conversely, Privilege Club elite status members will earn ALL elite status after your first qualifying hotel stay:
Privilege Club Gold status members will receive ALL Silver status.
Privilege Club Platinum status members will receive ALL Gold status.
These
Fast Track offers are only available once
. Your complimentary ALL elite status will be good until the end of the following calendar year. So, you have the incentive to
try to get your status as close to the beginning of the year as you can.
Complimentary Privilege Club elite statuses will be good 12 months after being received.


What does this mean for you?
This is another great partnership from Accor. Double-dipping on points is always a nice benefit and reciprocal elite status levels are also great, especially when you can earn Oneworld Emerald status with your ALL Diamond status.
Avios earned can also be transferred/used for other Avios programs (BA, Iberia etc.), which may suit for say short-haul rewards flights.
But the ability to accrue rewards with
Qatar, consistently rated as one of the world's best airlines
, is an outstanding attraction of this new double-dipping program. Depending upon your flying patterns and the alliance program your preferred airline belongs to (Qatar and Qantas are both OneWorld, Air France/KLM is SkyTeam),
this may very well be the best double-dipping program.
To learn more about the Accor Live Limitless rewards program...
Read More
…