I Prefer : how to best use this attractive rewards program
1 January 2020 - original article. Last updated. 28 August 2023

This guide is based upon the current iPrefer Hotel Rewards Terms & Conditions, which are dated 1 July 2021


---
Summary / Overview
I Prefer Hotel Rewards (I Prefer) is the loyalty program of the Preferred Hotel & Resorts group.
I Prefer offers:
Free membership
A good range of attractive properties (including upscale and luxury) at reasonable pricing.
Free room upgrades for all members.
The possibility of double dipping of benefits. You will receive I Prefer points and benefits from your booking and the hotel in its discretion may honour benefits to which you are entitled from other programs. I haven't tested this as I have not had stay in a property that was also a member of another relevant program. No harm in asking though!
Its weaknesses are:
The low conversion rate for points to rebates. Spending USD 100 on a stay converts to a rebate of USD 2 for a later stay. Booking via the iprefer hotel login or preferredhotels.com rather than a Travel Agent doubles this, but it still remains relatively low.
No ability to transfer points balances into airline miles (although in fairness, Bonvoy is the only program which does this well).
The inconsistencies of the program across properties. Many of the benefits provided are determined by each property, not centrally set by the program itself. This isn't necessarily a big issue, but something to be aware of and check prior to booking.
iPrefer is best for:
---
Contents
---
Introduction to I Prefer
Rather than only looking at the larger chain hotel programs, I also look into some of the smaller programs to see if we could uncover some gems for you.
This guide to the I Prefer rewards program does exactly that. We go through the key features of the program and then show you how to best use them, with specific tips and strategies.
---
Preferred Hotels & Resorts Brands & their positioning
The brands within the Preferred Hotels & Resorts (PH&R) portfolio will vary over time, as the portfolio consists of around 700 independently owned properties that are subject to regular anonymous inspections by PH&R. Some of the properties also operate under license from a major chain.
In terms of number of properties available, this places I Prefer between SLH Invited and Radisson Rewards.
While the brands are varied, they are grouped into the following collections:
Legend - PH&R's luxury collection (93 properties, includes spas)
L.V.X. - the upscale collection (230 properties, includes spas)
Lifestyle - comfort and style (435 properties, some with pools and fitness centres but no spas )
Connect - more 4 star properties. Includes L'Empire, Paris and properties operating under Aliz, Regal, Fortune Inn flags (92 properties)
Residences - villa, hotel and apartment residences providing larger accommodation for families or groups. Separate bedrooms, living spaces and well-equipped kitchens.
The I Prefer hotels range is quite broad, with concentration in the Lifestyle collection, but extending upwards into Upscale and Luxury segments, complementing the 4-star properties. Some of the properties are large, but many city-based ones are more boutique in style and often better located relative to the larger chains with their larger land footprint requirements.
Sustainability
Following the acquisition in February 2020 of consulting firm Beyond Green Travel , PH&R launched The Beyond Green collection.
To be included in the portfolio, properties will have to pass an initial and biennial on-site inspection and meet its three pillars of sustainable tourism (environmental practices that go beyond just basics and contributing to the social and economic well-being of local communities), as well as 54 other sustainability indicators that are aligned with global sustainable tourism standards and the United Nations Sustainable Development Goals.
Among these are a benchmarking system for its sustainable practices with set goals for improving upon them, including carbon emission reduction targets; elimination of plastic water bottles and reducing single use plastics.
---
Geographic spread - Preferred Hotels & Resorts
The Preferred Hotels group properties are well spread throughout North America, Europe, Latin America and Asia.
Oceania is very under-represented, although the Lyall Hotel & Spa in Melbourne is a very nice boutique hotel located in trendy South Yarra. A good choice if you want to be close to the action, but outside the CBD.
Similarly, The Fullerton Hotel in Sydney sets a high standard and is located right in the middle of the city, on Martin Place (it was an historic central Post Office in a previous life).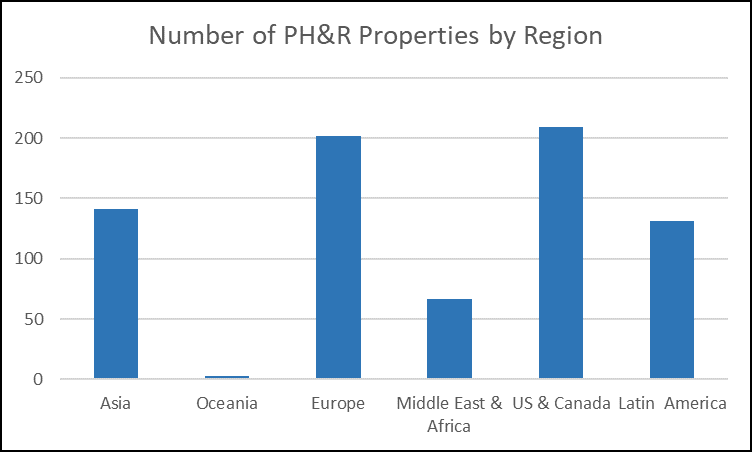 ---
How the I Prefer program works
I Prefer has only one type of point, which is earned solely from eligible stays at qualifying properties.  
Completed and paid stays from bookings made directly or through travel agents (but not OTA's such as Expedia etc) earn 10 points per USD spent. Exceptions are andBeyond, Vermejo A Ted Turner Reserve, or The Brando where 5 points are earned per USD spent.
I Prefer uses dynamic pricing for award bookings:
"Not all Participating Properties offer award stays.......The amount of Points required per night to obtain rooms at Participating Properties varies by the category of the Participating Property and the room types available at the Participating Property, length of stay, and may also vary by time of year. This includes rates based on demand which may change for an Award Stay at the time of checking availability, at the time of booking or modifying an Award Stay reservation".

Points earned can be redeemed for Rewards Certificates to offset against spending at properties at the rate of USD 1 per 500 points, in minimum lots of 12,500 points.
The number of these points earned within a membership year also determines which of the two membership tiers' benefits you will be entitled to.
---
I Prefer Elite tiers & benefits

All members receive the following instant benefits:
the ability to earn points for free nights in the future
exclusive member rates - generally a guaranteed discount rate of at least 3%.
priority early check-in & (s.t. availability) late check out
Complimentary internet access
Best Available Rate - If a lower unrestricted room-only rate is publicly available and found within 24 hours of you booking, submit a claim to IPrefer and the rate will be matched. Offer is subject to availability and blackout dates may apply.
This is a fairly weak promise - only a price-match and subject to "availability".
Complimentary room upgrade based on availability at check-in. It can include, but is not limited to: upgrade to a higher floor, a room with a superior view, or higher room category.
This can be very generous when available.

The Program offers a "basic" and two "elite" membership tiers based upon the number of I Prefer Points earned by a member.
Table 1 - I Prefer Membership Tiers & Benefits
Benefit
Insider
(0 - 24,999 points)
Explorer
(25,000* - 24,999 points)
Elite
(50,000 points or more)
Complimentary in-room internet access or enhanced access*
●
●
●
Access to exclusive Member Rates
●
●
●
Late Check-out**
●
●
●
Early Check-in**
●
●
●
Enhanced Room Upgrade**
●
●
●
Access to Partner Offers
●
●
●
Access to Rewards Suite, I Prefer Auctions, Book with Points & More
●
●
●
Digital Preferred Travel Magazine
●
●
●
Welcome amenity*
●
●
Points Bonus
20%
50%
Access to special offers and experiences
●
Food and beverage voucher*
●
Digital anniversary gift
●

*Varies by hotel
**Based on availability at check-in and/or property type. Not all properties are able to provide upgrades or an early check-in and late check-out
Moving to the Elite tier
Insiders are automatically upgraded to Elite status once they have earned 50,000 points.
Benefits of this tier are a welcome amenity and a 50% tier bonus when earning points.
Maintaining Your Elite Tier
The number of points earned are assessed on each anniversary of your membership (unlike most other programs that are typically based on calendar years).
Once you have reached the Elite tier, you retain that status for the remainder of the membership year in which the Elite tier was earned and the next calendar year.
If you fail to re-qualify for the Elite tier, your status falls to the Insider level.
There is only one type of point, which is used for both rewards calculations and status tier assessment, so the 50% tier bonus makes it easier to retain your Elite status, once you have attained it.
Complimentary breakfast
Free breakfast is not a benefit of any membership tier.
Complimentary room upgrades
Often difficult to obtain under other programs, room upgrades (including the possibility of a higher category) are a benefit for all members, regardless of status tier. This is not guaranteed, but subject to availability in all cases.
Status-matching
Status-matching from another program is possible. You must request an I Prefer status-match via the dedicated email and attach proof of your current status with the other program. 
---
Earning iPrefer rewards
Earning I Prefer Points from Stays
Qualifying Stays earn 10* I Prefer points per USD spent on the room (up to 15 points for Elite members due to their tier bonus). The calculation does not include taxes, service charges, resort fees, or gratuities. Some properties will award points based on non-room charges including food and beverage, spa, parking, business center etc, but this is at the discretion of each property and varies.
Given that you convert points into Reward Certificates at the rate of USD 1 per 500 points, you receive a cash value Reward Certificate for a rebate of USD 2 for every USD 100 spent on paid stays. This implies a yield of 2% for Insiders, 4% for Explorers and 6% for an Elite member. Not very attractive.
Unlike larger programs, this program focuses primarily on stays at properties. You cannot earn points through any other sources such as an online mall (none exists) or a multitude of "partners". The focus of the program is to reward loyal travellers with enhanced benefits for each stay at a Preferred hotel.
I Prefer Members can book online through their I Prefer login, or better yet through our associated agency Rewarding Travel - a Preferred Hotels & Resorts Platinum travel agent and receive enhanced benefits while still earning I Prefer points.
Earning I Prefer Points from SIXT Car Rental
The only points-earning partner is SIXT Rent a Car, one of the leading car rental companies in Europe. SIXT offers I Prefer Members the ability to earn points, together with discounted rates and complimentary membership (but you must apply) of SIXT card membership and associated perks.
Up to 10% off best available online car rental rates 
Earn 5,000 I Prefer points on SIXT car rentals  
Earn 10,000 I Prefer points on SIXT limousine rentals
Insider Members: Gold SIXT Card  
Elite Members: Platinum SIXT Card 
*  except at Wilderness Safaris, andBeyond, Ted Turner Reserve Vermejo, and The Brando where a Member will earn five (5) base Points for each U.S. dollar spent on Reservations Revenue.
---
Buying I Prefer points
I Prefer points cannot be purchased.
---
Retaining iPrefer points
Normal Expiry
Your rewards points expire after 24 months of no "activity" on the account. Activity is defined as an eligible stay or redemption into a Reward Certificate. You will forfeit your current balance when your points expire and you will be downgraded to Insider status.
This is quite tough. Not monitoring your balance could cost you dearly. Fortunately it is quite easy to prevent their expiry if you plan ahead.
Strategy prior to expiry
The options to prevent loss of value through you points expiring are limited to:
1.   Redeeming your points for a Rewards Certificate. Rewards Certificates do not expire but can only be used to offset the cost of paid stays at properties participating in the iPrefer program.
2. Transferring points to another iPrefer member by sending a transfer request to IPrefer@PreferredHotels.com. The transfer request should include:
the transferring member's I Prefer member Number,
the transferee I Prefer member's Number, and
the number of I Prefer Points the transferring I Prefer member wants to transfer to the other member.
---
Using your I Prefer points
The only use for iPrefer points is to use them to book Rewards Nights (standard rooms only) or for Rewards Certificates that can only be used to offset the cost of paid stays at properties participating in the iPrefer program.
Generally Rewards Certificates can only be used to offset room costs, but some properties also allow them to be used against meals or spa services too.


Exchanging I Prefer points
A request to transfer I Prefer points to another member can be made at any time via e-mail to iPrefer@PreferredHotels.com.
In the case of the death of an I Prefer member, PH&R may transfer unredeemed I Prefer Points to another I Prefer member upon PH&R's receipt and review of documentation including a death certificate. To request a transfer of I Prefer points in the case of death, send an e-mail to iPrefer@PreferredHotels.com
Pooling and transferring I Prefer points
Points cannot be pooled with other members. Nor can they be transferred to other programs (eg airline miles of frequent flyer programs).
---
I Prefer Program Promotions
Generous promotions to members make I Prefer more attractive than it may at first appear. Some are ongoing, some are for limited periods, while others have participating properties which change over time. Some of the pre-coronavirus special offers (Jan 2020) are summarised below:
IPrefer ongoing offers:
Last Minute Escapes - 35% discount from BAR if you both book and stay at selected properties within approx 35 days
Stay more, save more - book for a minimum of 3 nights and save 30% off the best available rate. Dates vary by property.
Preferred advance - make a non-refundable booking more than 30 days in advance and save 30%. Dates vary by property.
Preferred Bed & Breakfast - periodically offered, but for a limited time, book for a stay that includes breakfast for 2 people.
Preferred Pride - receive the best available rate and a welcome amenity.
I Prefer Loves, provide Members-only access to unique offers such as special products, services, gift cards, discounts, and even complimentary items.
IPrefer limited time offers:
Preferred Plus - a bonus amenity, credit, or experience. From an off-property excursion to a spa credit, each participating property has something unique to surprise and delight.
In addition, there are special offers for members of specific credit card programs. These may be for limited periods and Terms & Conditions apply, so it pays to check regularly.
American Express Extra Night Offer: Get an extra night when you book two, three, or four consecutive nights and pay with an American Express Card.
American Express Preferred Family Offer: Book and pay with your American Express Card for a minimum stay of two consecutive nights and get 10% off the room rate and complimentary meals for kids aged 12 and under.
Mastercard offer - 4 nights for the price of 3, (save 25%) if you pay for your booking with your Mastercard
Premium Mastercard offer - 4 nights for the price of 3 (save 25%), plus Elite tier benefits, plus 25,000 I Prefer points if you pay for your booking with your World, World Black Edition, or World Elite Mastercards
Visa worlds offer - 10% discount from BAR plus free breakfast for 2 for each day of your stay (available at selected properties only) if you pay for your booking with your Visa card.
---
Special features of the I Prefer program
It is a very straightforward, revenue-based system that has one less common feature - the Preferred Pride offer, which is aimed at the LGBTQ+ community.
Each property participating in Preferred Pride has inclusive employment policies and services as well as continued support of the LGBTQ+ community. It is more than just lip-service or a marketing ploy, as PH&R partners with TAG Approved and IGLTA to assure that each hotel promotes equality and safety for LGBTQ+ tourism.
Some other programs offer a similar feature, but this is perhaps the best implementation.
iPrefer Auctions
Introduced in January 2021, I Prefer members can use as few as 5,000 of their points to bid in I Prefer Auctions to win exciting travel-related auction items such as :
a Winemaking and Tasting tour in Tuscany;
multi-day stays in destinations around the globe; and more.
The items available to bid for change regularly, so it is best to enable I Prefer Offer Notifications in your member communication preferences to stay informed of future Auction dates.
To give you an idea, at launch the items on auction were listed as:
iPrefer for Event Planners
For I Prefer members who arrange meetings or events, there is a separate provision for iPrefer Planners.
As an I Prefer Planner, you are eligible to earn I Prefer points on room revenue (excluding taxes and additional charges) when you book through the Preferred Hotels & Resorts North American National Sales Offices +1 (877) 497-6976 or the European Group Desk +1 (636) 736-4397 .
You earn 5 points for every USD spent (regardless of your membership tier) to a maximum of 500,000 points per year. This is half the rate associated with a paid stay.


---
Observations - I Prefer
I Prefer program Pro's:
The special offers are attractive and available to all members. Some include breakfast, others discounts of 30%.
The "yield" or value for points redeemed for free night stays can be very attractive relative to other programs for awards stays (but not for Rewards Certificates which provide 4% for Insider and 6% for Elite).
Points can be transferred (but not pooled). The handling of a member's points after their death is more clear than many other programs.
The benefits for all members are generous, especially the free room upgrade, which can be a to a higher category room, This is not guaranteed, but is a benefit only available on other programs at their upper status tiers.
I Prefer's alliances with select premium credit cards can provide significant discounts and/or perks
The types of stays can vary quite widely and include:
beaches and islands
mountains and ski resorts
boutique hotels
historic hotels
spa retreats
sustainable travel and
stays catering for food & wine buffs.
I Prefer program Con's:
The threshold for top-tier Elite status is quite high for the marginal additional benefits of an amenity and 50% tier bonus.
The larger markets of North America, Europe, Latin America and Asia are well catered for, even though the actual number of properties is far less than the major chains.
The member discount of "at least 3%" seems stingy, but prices are very reasonable without it. Perhaps other chains have larger discounts applied to inflated prices....
Breakfast is not a benefit available at any membership tier. However, regular promotions or membership of premium Visa can overcome this.
You cannot purchase I Prefer points
I Prefer points expire after 24 months without making a paid stay or exchange for Reward Certificates. They cannot be otherwise "refreshed".
---
Conclusions - I Prefer
This is not a large program with a range of brands offering their own versions of cookie-cutter properties. It is a group of curated collections each with variety and value for money within their respective niches.
It is also a program that focuses on properties and stays, not trying to be a one-stop shop for standardised everything.
The strong level of benefits for all members mean this is not a program for travellers who seek to play a "climb status tiers" game.
Overall. I see this as a program offering very good value for leisure travellers who are more selective and seek a stay that is out of the ordinary, with appropriate comfort and value-for-money at all levels of luxe. Ensure you join and only book online or through a Travel Agency offline to get your rebate against the cost of future stays.
Definitely one to belong to for the times when their property destinations suit your travel plans.
Also good as a second program to complement membership of one of the larger programs (where you may decide to target tier status).
---
How to Join or Status-match to I Prefer
It is easy to open an account and is free - apply here for the i prefer hotel rewards sign up. You can also apply at any participating property, but will not receive points for that stay, as you won't already have an iprefer login.
There is a dedicated email address for you to request an I Prefer status-match.
You will need to provide evidence of your status at another hotel rewards program (a recent statement showing status, list of recent stays and any proposed future stays at a Preferred Hotel all help support your application).
---
FAQ - I Prefer