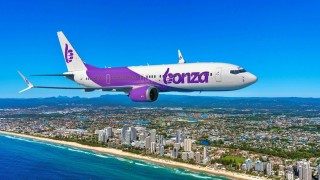 Bonza names its first Boeing 737

Bonza, the new Australian Low Cost Carrier, has announced the winning name for its first B-737.

A shortlist of the hundreds of suggestions was voted on by the Bonza Local Legends – the airline's ambassadors. The most popular name and one adopted by Bonza was "Shazza". The second most popular name was "Bazza", which may be used for the second aircraft when it joins ist stablemate.

Shazza is currently having her interiors Bonza-ified including obligatory splashes of purple. Bonza is aloso training in-flight and cabin crew, finalising the all-Aussie menu and stress testing the Fly Bonza App which will be the only place customers can book flights (with the exception of local travel agents).

An exciting time for Bonza.