Marriott Rewards: Latest Changes Have Big Impact
Latest Changes Will Impact Best Marriott Rewards - Possible Headaches?
by Neil McPherson
18 August 2019
Changes to the Marriott rewards program "Marriott Bonvoy" confirmed this week will be far more significant to Bonvoy members than they may realise. From September 14th, the following changes will come into effect, although Marriott say they will honour existing bookings under the current arrangements.
It's just over a year after Marriott Rewards announced sweeping changes to the program and renamed it "Bonvoy". This week, the date for the last of the changes was confirmed by Marriott as being September 14th . There have been some "tweaks" made to the changes since they were initially announced. Most appear minor on the surface. Yet the devil lurks in the detail.

Marriott Rewards Now Have Peak and off-peak pricing
This was one of the earlier announcements, although implementation was deferred. You now have a little under a month to make bookings at what will then become "standard" room-rates. Bookings already made for dates that will become off-peak periods can be cancelled and re-booked at the lower pricing. Ensure that you confirm the new booking before you cancel the current one.

The new pricing is as announced a year ago.
Marriott have said that the number of off-peak and peak nights will be roughly the same, but the periods will vary by hotel (makes sense for hotels in different hemispheres).
Interestingly, the qualifier is that there will be more standard nights than either peak or off-peak (so the same price as currently which is good) and the balancing of peak and off-peak nights will be across the hotel portfolio, rather than equally by each hotel (perhaps not so good). The other development for the new 3-tier pricing is that the periods for each tier will be reviewed and potentially adjusted each month. Marriott video confirming the points required per night by hotel category and period.

5 night redemptions
One of the Marriott Bonvoy program's attractive features has been the "fifth night free" for all members' (not only elites) award stays. This benefit will remain for all members, but will change from "fifth night free" to "stay for 5, pay for 4". This reflects the change where the "free" night is the one with the lowest redemption value. This will only impact canny members who might otherwise have booked 4 nights in what would be say off-peak and the fifth night in peak.

For example, a category 5 property that has a current requirement of 140,000 points for 5 reward nights (4*35,000 + 1 * free) will now be 125,000 points (3*30,000 + 1*35,000) but would have been 120,000 points (4*30,000) without this change. So a saving of 10.7% rather than 14.3% from the off-peak rates.
On the other hand, a stay of 4 standard nights followed by 1 peak night will now be 145,000 points – an increase of +3.5% over the standard night pricing.
If your stay has the lowest priced period at the end rather than the beginning of your stay, then there is no adjustment to what you would pay (as the first 4 nights are all the same pricing and the cheapest night is also the last).
Overall, a little penny-pinching, but not too bad a change.

Points advance bookings
Another very attractive feature of the Bonvoy program is its "points advance booking" where you can make a booking for an award stay, even though you don't have enough points at the time. As long as you have enough points at the time of redeeming the points to finalise your booking, you are OK.
This will remain in place, but will now:
Be limited to only 3 open points advance bookings per member at any time. Apparently some members abused this feature by booking a lot of stays for differing dates before they knew exactly which dates they required. They then later cancelled the unwanted bookings, keeping only the one actually needed. This locked other members out of the availability. So this seems a reasonable and fair solution to me.
The points advance will now lock in the dates, but not the redemption price. So now that the 3-tier pricing periods can be adjusted monthly, you may find that the points required increases between when you made the points advance booking and the date that you redeem the remainder of the points. This development I like far less.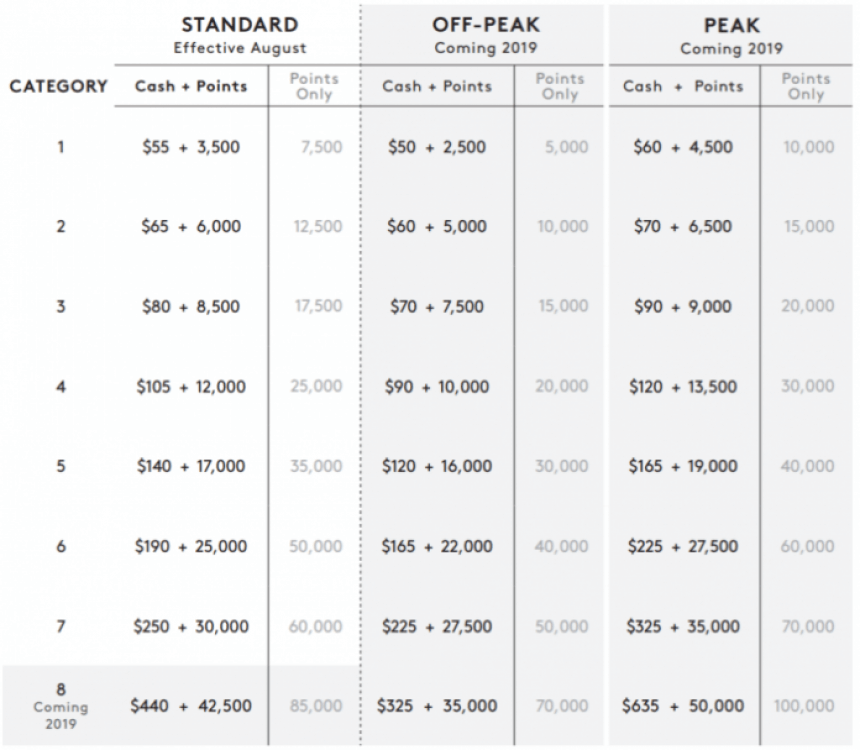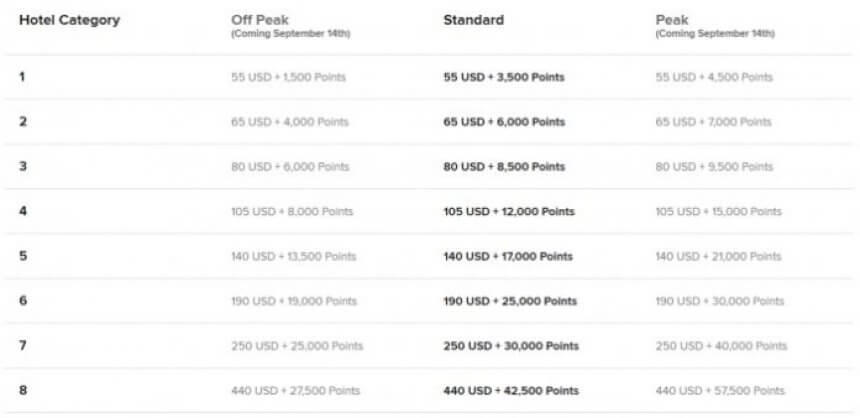 Cash-and-points
The cash-and-points feature, where you book a stay and pay fully in a combination of cash and points (different from the advance points booking) has also been tweaked. At the time of the original announcement of the 3-tier pricing a year ago, it was to be a combination of a variable number of both points and cash component.
This has now changed to be a fixed cash amount with a variable points component only. I think someone must have worked out that the original table implied a value per point ranging from US 0.40 cents each to US 2.0 cents each, opening lots of opportunities for arbitrage.
The new table implies a value for Marriott Bonvoy points ranging from 
US 0.63 cents each
 to US 1.57 cents each, still opening some attractive opportunities, given most valuations of Bonvoy points are approx. 
US 0.80 cents each
.
Most implied valuations are close to this, but when you are about to redeem points for free nights, you should check to see
how many points are required for different Marriott hotels
. Just note that:
Points-only is better than cash-and-points for all off-peak nights, at all property category levels
Categories 5 and 6 properties are cheaper using cash-and-points rather than points-only (for standard and peak nights)
Categories 3 and 4 properties are also cheaper using cash-and-points, but only at peak times.
Selecting cash-and-points for other options could end up costing you as much as twice their valuation, which is clearly poor value.
My take on the changes
Marriott says that the Peak periods will be the greatest proportion and that there will be equal proportions of off-peak and peak periods across the program. Note, NOT for a specific property. So will the off-peak availability be concentrated in the lower category properties and the higher category properties be mostly peak almost all year-round?
Marriott will also have the ability to change the dates for any property's peak period, should demand vary (so if a room is in high demand, the peak period could be adjusted to move it from standard to peak pricing). Other programs set point redemption requirements that are good for a whole year. This to me looks like a step towards the "dynamic pricing" that has already occurred in some airline loyalty programs or "revenue-based" redemption (eg Accor).

New flexible date finder tool
A positive change, given the increased complexity for points redemption is that Marriott is introducing a "flexible date finder" tool. This is anticipated to show the calendar breakout for all off peak, standard and peak dates and the room availability at a given property. This should make planning a trip and making a rewards booking easier.


Conclusions
On the surface, the changes appear relatively OK. However, I am concerned by the variability within the peak/off-peak system.

It makes it harder to for loyal members to plan ahead.
I don't like even a small step towards a "dynamic pricing" system.
Call me a cynic, but I think more aspirational properties will become far more expensive to obtain via points, as they will have extended "peak" seasons offset by extended off-peak periods for lower category properties.
I just get the feeling that the bean-counters have taken over and the Bonvoy program is losing sight of what it previously did (or at least the SPG program did, RIP) – create a program with soul that rewards members for their loyalty and in exchange provides a stable source of bookings for the group. My concern is that Marriott is so large, it may lose touch with its travellers and its bean-counters take it towards becoming a bland chain with an unappealing loyalty program. I really hope this doesn't happen.
Personally, I am an ex-SPG (Sheraton Preferred Guest) member who became a Bonvoy member as part of the Marriott's acquisition of Starwood. Some of the program changes have disappointed me, but there were enough features of the old SPG program retained that made Bonvoy still relevant for me. Now however, I feel the latest changes are starting to shake my loyalty a little and I may soon start to instead look more to Hilton Honors (which has dynamic pricing, but with a cap) or another (perhaps combined with a smaller/boutique group's program) for my own family travel preferences.

I will revisit my Comparison of hotel rewards programs to decide.

A pity, as I look out the window at the grey sky, thinking my current favourite location for a 1 week late-winter break is a Sheraton Grand property.