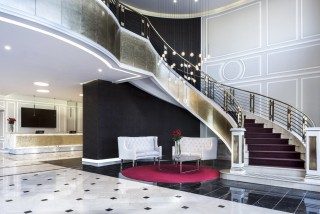 NH Hotels officially joins GHA

Pictured is the NH Collection Plaza Santiago.

On June 20th, NH Hotels officially joined Global Hotel Alliance (GHA), the world's largest alliance of independent hotel brands.

NH Hotel Group is one of the largest hotel companies in the world and brings to the alliance more than 350 properties in 30 countries under three brands – NH Hotels, NH Collection and nhow.

NH Hotel Group is majority-owned by Minor Hotels, a Bangkok-based operator of more than 160 hotels and a GHA shareholder. Minor Hotels' global family of brands include Anantara, Avani, Elewana Collection, Oaks and Tivoli which were already member brands of the alliance and participate in GHA DISCOVERY.

The move sees the transformation of NH Rewards into the GHA DISCOVERY loyalty programme, becoming NH DISCOVERY and creating a 21-million-strong global membership. Existing NH Rewards members will retain the value of their points and their other benefits, including Member Rates with up to 10% discount and additional rewards for booking on the NH or GHA websites.

For more details on GHA Discovery, see our Guide to GHA Discovery

A unique feature of the NH Discovery version is that NH Hotels shareholders can upgrade their tier status for attractive benefits.

Under T&C 4.9 Members of the NH DISCOVERY Programme who are also NH's Shareholders may upgrade their Tier as follows:

* To the Gold Tier if they hold a block of shares to a value which is lower than 2,000 Euros; or

* To the Platinum Tier if they hold a block of shares to a value equal to or greater than 2,000 Euros but lower than 3,000 Euros.

* To the Titanium Tier if they hold a block of shares to a value equal to or greater than 3,000 Euros.

The value of a block of shares will be determined considering the number of shares multiplied by their market value. In order to enable the upgrading of a Tier, Members must prove their status as a Shareholder by sending their securities account certificate by email to nh.loyalty@nh-hotels.com.


If you are a shareholder of NH Hotels, these upgrades last for as long a you own the requisite value of shares, providing a way of holding tier status without the requirement of stays or spending.