Accor reported to be casting its eyes over IHG
by Neil McPherson
22 August 2020
The reports
It was widely reported this week that Accor is looking into a merger with cross-channel rival IHG. The story in Le Figaro was syndicated through Reuters and then appeared largely unchanged in many publications. Both groups declined to comment to media.
What is motivating it?
Perhaps not surprisingly given the current environment, the merger looks at first glance to be more motivated by cost-cutting than market expansion.
This is in contrast to other mergers that seek to expand their markets rather than cut costs.  In these instances, an acquisition also acquires management knowledge and systems for segments that are less familiar to the acquirer – BW's acquisition of WorldHotels was more along these lines.
Accor and IHG have the knowledge, experience and presence in similar market segments around the world.  Although some brands are seen as complementary (eg Ibis and Holiday Inns), IHG is not regarded as strong in the higher luxury market segments (perhaps apart from Six Senses) whereas Accor itself already has the Fairmont and Raffles luxury brands that compete with the likes of Park Hyatt, Grand Hyatt and  Marriott's Ritz-Carlton and St Regis brands or Hilton's Waldorf Astoria and Conrad brands.
The greatest overlap overall appears to be in the middle-market – think  Ibis and Novotel.
I suspect the interest is aimed at cutting costs more likely from central areas such as management, procurement and systems (once carefully integrated, recalling the Marriott/Starwood acquisition).
Although, as a I looked deeper, I realised there may be more than just cost-cutting involved.
Comparison to the current giants of Marriott and Hilton
The two group's geographic footprints are more complementary rather than strongly overlapping, as shown in the table below. This is good, as otherwise a merger could result in cannibalisation of existing business.

Table 1 - Number of Locations by Region as at 30 June 2020 (source; accor.com and ihgplc.com)
| | | | | |
| --- | --- | --- | --- | --- |
| | EMEAA | Americas | Greater China | Total |
| Accor | 4,187 | 507 | 810 | 5,504 |
| IHG | 1,113 | 4,317 | 488 | 5,918 |
| Accor + IHG | 5,300 | 4,824 | 1,298 | 11,422 |

Should a merger proceed, the combined property portfolio would look more balanced.
.
Comparison to the current giants of Marriott and Hilton
The merger would be between the current third and fourth largest chains and would result in an entity that would leap-frog both Marriott and Hilton in terms of location and room numbers.

While not quite as extensive in the Americas as Marriott or Hilton it would still be twice as big as the next largest (Best Western with 2,417 properties).
However, a merged entity would dominate both Marriott and Hilton in the rest of the world, especially China.
Chart 1 - Number of Locations by Region- comparison to Marriott and Hilton (c) 2020, pointsNplaces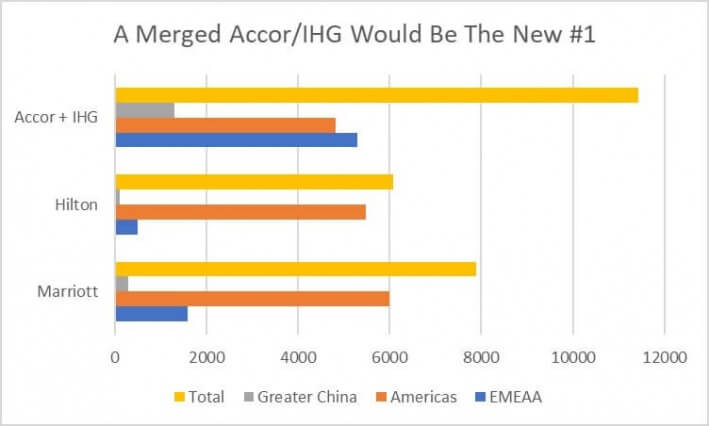 Is a merger/takeover likely to proceed?
In a recent and unhelpful development, Accor's bonds were cut to a junk rating by Standard & Poor's on Wednesday, making a debt-funded acquisition both riskier and more costly.  By contrast, in its recent reporting IHG stated that it had liquidity of USD 0.6 billion (at June 2020).
Bryce Elder, writing in the FT on 21 April 2020 provided his insights as to the potential financing of a deal in an article "Creating the world's biggest hotels group seems permanently out of reach". The headline says it all.
What would it mean for the loyalty/rewards program members?
If a merger (or reverse takeover?) does proceed, there will be much more work to do first.  Including working out how to integrate the two very different loyalty/rewards programs.
Our Accor Live Limitless guide notes thst the program provides a fixed earning rate for stays, which are redeemed at a fixed rate for rebates against the price of future stays - effectively a discount. The member benefits are many and varied but you need to understand the 8 (!) sub-programs to get the most value.
IHG Rewards Club offers a points-based rewards program. The member benefits are a little light-on, but the regular points promotions (especially pointbreaks) provide very good value when purchased for future stays.
Pure speculation, but what I would like to see in a merged loyalty program is:
a tidy up of the large number of benefit programs. Either make benefits such as complimentary breakfast available at a competitive tier level, or retain some benefits at a regional level, but reduce the complexity of the ALL options. Ensure the benefits, especially for elite tiers, are more meaningful than the current IHG ones
retain the revenue-based nature from the ALL program. Replace the excellent Point Breaks promotions by similar ("Price Breaks" ?) promotions where certificates for stays are purchased at a significant discount for stays at specific properties for specific times. While this may remove the opportunity for us to find exceptional value through points, given Accor's current approach it may be more palatable as it would make cost control far easier than a points-based system and more likely that a good standard of benefits was made more widely available.
If this was achievable, I think the merged entity and its rewards program would offer a very hard to beat package:
a range of properties, with potential for very attractive aspirational stays at Six Senses, Fairmont and Raffles. Possibly also at properties within the curated list of Mr & Mrs Smith.
a large footprint spread fairly evenly across the 3 major regions, providing options for almost everyone.
a rewards program that would entice folk away from other programs and provide sufficient benefits that they want to remain.
Watch this space.