Buy Bonvoy points this holiday season - save 33%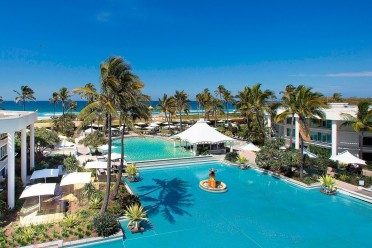 Marriott Bonvoy members, get 50% more Marriott Bonvoy points when you buy or gift at least 2,000 points before 22 December 2020.
That's a 33% discount !
It cuts the cost to USD 8.3 per thousand points (from USD 12.50 per thousand), which is close to our "fair value" of USD 8 (or AUD 12) per thousand, meaning you should readily find options to redeem at close to or better than cash prices.
The annual limit on the number of points you can purchase has been temporarily increased to 150,000 - and the bonus points from this promotion don't count towards the limit.
If you can use the full limit, you can receive 225,000 Bonvoy points for just USD 1,875 or AUD 2,525.
That's more than enough for a 6 night stay at a Category 5 property in peak pricing* (includes the stay for 5 pay for 4 member benefit). You can read more about this in our comprehensive guide to Marriott Bonvoy.
Sheraton Grand Mirage, Gold Coast (pictured above) requires either 195,000 points or AUD 3,390. Using 195,000 points purchased under the promotion, this equates to USD 1,625 or approx AUD 2,190.
AUD 365 per night compared to a cash price of AUD 565? Yes please !
And there are plenty of similar opportunities elsewhere in the Marriott portfolio.
Make sure you buy your Bonvoy points at 33% off now, in time for a holiday surprise! Read the Terms and Conditions that apply, which are shown on the page once you scroll down.
Points.com is one of our advertisers. Should you use our link to make a purchase, then at no additional cost to you we may receive compensation which helps us to keep this site running. You don't have to use our links, but we appreciate your support when you do..
* Standard room, flexible rate at Sheraton Grand Mirage, Gold Coast Jan 18 - 24, 2021 FX rate of 0.7425 Prices correct as at 1800 on 3 Dec 2020.