You are here: News, Views and FAQs › Latest news on Airlines & Their Loyalty Miles › News and Views (Airlines) of 15 Nov 2019

News and Views (Airlines) - 15 Nov 2019
By Neil McPherson
15 November 2019
Changes at Alaska Airlines and its Mileage Plan
1. Earnings rate on (some) Qantas discount economy fares slashed
Starting on January 1st 2020, passengers who fly on Qantas and credit frequent flyer miles to Alaska Airlines may earn up to 75% fewer miles than they did prior to the cutoff.

Currently, all passengers flying on Qantas and crediting to Alaska's Mileage Plan loyalty program earn at least 1 frequent flyer mile for every mile flown on the Australian carrier.


From 1 January of next year, however, deeply discounted economy fares will only earn 1 mile for every 4 flown – a cut of 75% – while mainstream economy fares will earn 1 miles for every 2 flown.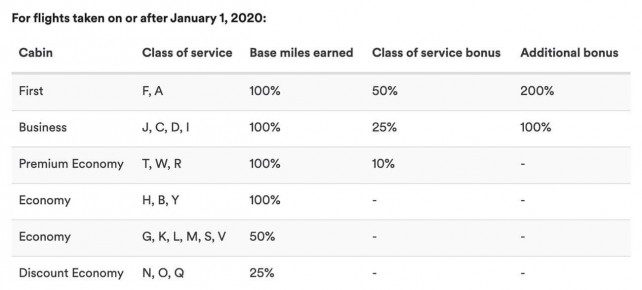 In fairness, this cut impacts only the discounted economy fares - where earning Qantas FF miles was nil. The earning rate for full-fare economy upwards is unchanged. Still, for short domestic runs, this will slow down the amount of miles being accrued for very attractive Alaska Airlines redemptions.
2. Alaska Mileage points able to be redeemed on Singapore Airlines.
This recent development is surprising, as historically Singapore Airlines has only made award seats (other than economy) available to members of its own Krisflyer program. Annoyingly, soon after the announcement, Alaska:

increased the amounts of points required on Singapore.
eliminated the option of having stopovers on one-way awards within Asia. Alaska's partners allowing intra-Asia redemptions include Cathay Pacific, Hainan Airlines, Japan Airlines, and Singapore Airlines, and for travel on these airlines you can no longer have a stopover within Asia.
Note that you can still have a stopover when traveling between other regions and Asia. For example, if redeeming miles on Cathay Pacific from Los Angeles to Hong Kong to Singapore, you can still have a stopover in Hong Kong.
Similarly for flights from Australia to Asia and onto Europe, the Asian stopover strategy remains an attractive feature of the Alaskan program,
Overall, Mileage Plan still offers solid earning rates on some airlines, some excellent redemption opportunities, and the ability to buy miles frequently at a good price, so the program still remains highly valuable.
I just wish they had handled these announcements differently.


---
Etihad announces improvements to its Guest program
1. Etihad Guest miles to no longer expire
Etihad announced that soon its miles will no longer need expire. Currently, Etihad Guest miles have a "hard" expiry of 30 months. Soon this will be changed to not expiring as long as there is activity within every 18 months (or never expiring for Platinum members). The definition of "activity" is yet to be confirmed, but if it includes points purchases or transactions in the e-store, this will be a significant improvement.
Leisure travellers in particular found it tricky to save points for a major trip (perhaps an extended family holiday), with the fixed timeframe of 2 and a half years. If points can be kept for longer, this will make some leisure travellers very happy indeed.
2. Award booking able to be made using a combination of cash and miles
Booking Etihad's GuestSeats (the limited supply of fixed price award seats) will be possible using 50% of the usual award price in points and the remainder with cash.
---
Virgin Atlantic and Virgin Australia approval to work more closely together
The Australian regulator ACCC (Australian Competition and Consumer Commission) has given formal approval to an improved cooperation deal between Virgin Atlantic and Virgin Australia.
Virgin Australia recently dropped its Melbourne-Hong Kong route, so the closer co-operation could mean a focus on Virgin-branded flights from Melbourne to LAX and then on to the UK. This will be far better than the current situation of flying to Hong Kong then waiting hours for the connection onto London.
A positive development for all travellers, with Virgin Atlantic's service well regarded. Interestingly, this would create a "kangaroo run" in the opposite direction to that of Qantas. It may also open up further developments, given the close relationship between Virgin Atlantic, Air France/KLM and Delta.
---