You are here: News, Views and FAQs › News and Views of 13 Sep 2019
News and Views - 13 Sep 2019
By Neil McPherson
13 September 2019

Our regular round-up of items relevant for travellers & loyalty programs.
Summarised with our views and interpretations.
Cathay cuts routes as unrest in Hong Kong slashes demand
Cathay Pacific plans to cut capacity on routes to the US and around the world, reports Reuters. The move comes as travel demand to and from Hong Kong, one of the world's premier business and tourist destinations, has been decimated in the wake of massive anti-government protests over the last two months. The protests, which have occasionally turned into violent clashes between the police and protestors, have driven a 40% drop in visitor arrivals to Hong Kong for the month of August.

A note for experienced flight miles hackers, one of the cut US routes is a fifth-freedom route.
Marriott announced the launch of new Marriott Bonvoy Events platform.
This new site is a comprehensive tool for meeting and event planners, building upon the former Marriott meetings site, "Meetings Imagined" and relaunched as Marriott Bonvoy Events.

The platform will provide detailed information and an interactive map feature to allow planners to easily conduct a filtered search by destination to find the perfect hotel to host their meetings and events. Further support is provided via tips and trends from meetings experts, success stories, destination highlights and promotions from hotels around the world and more.It will feature a points calculator, allowing planners to estimate the number of Bonvoy points earned for each meeting or event held at participating hotels.

Generally, planners can earn up to 20,000 miles (with partners) pa from events. Existing Bonvoy members earn tier bonuses if taking the rewards in the form of Bonvoy points. So the annual maximum becomes 60,000 points for a member, rising to 75,000 points if you have Gold status and 105,000 points if you have Ambassador elite status.

The qualifting spend for points is calculated on eligible room, food, beverages and audio/visual charges (2 points per $1 USD). Additionally, you get 10 Elite Qualifying Nights (EQNs) with your first meeting, then 1 EQN for every subsequent room night booked.. That's Silver Elite status after the first event with the ability to attain higher status levels.
Opportunities to boost your Bonvoy points and tier status:
For business owners who arrange client events or boardroom style meetings - boost points and status,
For someone with a wedding or other major event coming up - if lacking tier status this is an opportunity to quickly join and jump to Silver status (the first elite tier) where the benefits aren't stellar, but you get a kick-start.
If you already have elite status, take the rewards as Bonvoy points (with the bonus) even if you later plan a transfer to an airline partner.
Check out Bonvoy Events for more details, or to make a booking. Don't forget to add your Bonvoy member number to the booking!

Changes to the SLH INVITED loyalty programme went live on 10th September 2019
Changes announced by Small Luxury Hotels of the World (SLH) are now applicable to all bookings.
The changes are not too bad and appear to be aimed at reducing inconsistencies with its alliance partner World of Hyatt.
Our latest review of the Best Hotel Rewards Program incorporates these changes.
What you need to know:
The first tier will be renamed from "Invited", the same as the programme name, to "Intrigued". No impact on members, apart from potentially reducing confusion when discussing the programme or the tier.
Daily complimentary breakfast for 2 no longer applies to this first tier.
Late check out (subject to availability) changes from 3pm to 2 pm - consistent with World of Hyatt.
Tier qualification is now based on nights rather than stays.
Observations:
Members whose stays are usually 2 nights or longer will benefit. If typical stays are overnight only, your qualification progression will take twice as long.
New members no longer qualify for 2 breakfasts per day.
Other than that, not much has changed, as can be seen below.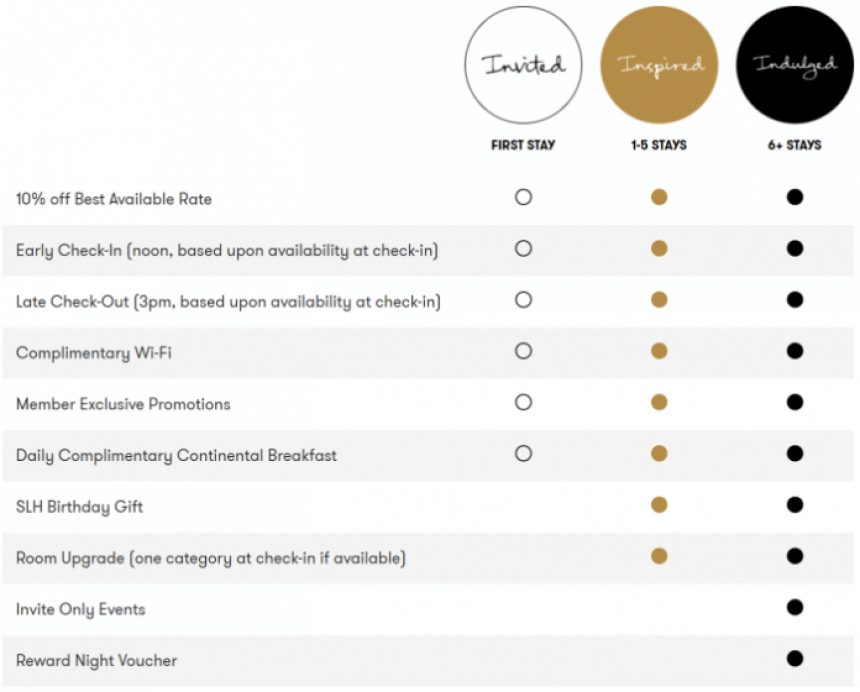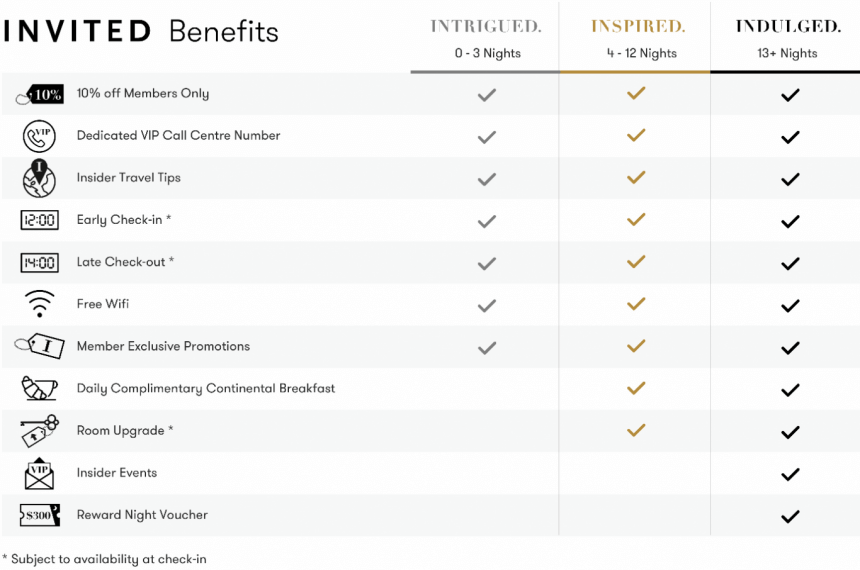 Airlines From Around the World Gathered in LA to Receive Airline Ratings™ Honors
The Industry's First Rating Program Based Solely on Verified and Certified Passenger Feedback. NEWS PROVIDED BY APEX (Airline Passenger Experience Association)
The APEX Official Airline Ratings™ were created based on neutral, third-party passenger feedback and insights gathered through APEX*. Using a five-star scale, more than 1.4 million flights were rated by passengers across nearly 600 airlines from around the world between July 1, 2018, and June 30, 2019. The ratings were based on the categories of seat comfort, cabin service, in-flight food and beverages, in-flight entertainment, and Wi-Fi. The ratings were independently certified by a professional external auditing company.
Category winners were:
Qatar Airways: Best Seat Comfort
Emirates: Best Entertainment
Qatar Airways: Best Cabin Service
Delta Air Lines: Best Wi-Fi
Qatar Airways: Best Food & Beverage

What I like about the methodology is:
it has has great credibility, given the number of reviews and the external audit. Not just a popularity poll
the spread of reviews gives you an idea of the overall consistency of the airline's service, not just a review of a particular flight on what could be either a good or bad day.

For your information, a selection of the AIRLINE RATINGS™ winners by category is shown in the table below.
Observations:
KLM rated more highly than its partner Air France
United rates lower than American and Delta
American scoring 5 stars is perhaps a surprise, given the anecdotally "difficult" year they had
The UK flagship BA rates as 4 star, despite positioning itself as a 5 star airliine
Note that 4 stars is set as the maximum for Low Cost Carriers, reflecting their business model
There is a good range of choices within the 5 star categories. Some of which provide exceptional value via their loyalty programs.
5 Star Global Airlines
AeroméxicoAir New
ZealandAmerican
AirlinesAll Nippon
Airways
(ANA)AsianaCathay
PacificChina AirlinesDelta
Air LinesEmiratesEVA
AirJapan Airlines (JAL)KLM
Royal DutchKorean
AirLufthansaQantasQatar
AirwaysSingapore
AirlinesSWISS Air
LinesTurkish
AirlinesVirgin Atlantic
5 Star Major Airlines
Alaska
AirlinesAviancaBangkok
AirwaysHainanHawaiian
AirlinesJetBlue
AirwaysRoyal
BruneiVirgin Australia
4 Star Global Airlines
Air FranceAir
ItalyBritish
AirwaysChina
SouthernEtihad
AirwaysFinnairIberiaLA
TAMMalaysia
AirlinesScandinavian
(SAS)Thai Airways
InternationalUnited
Airlines
4 Star Major Airlines

Aer LingusAerolineas
ArgentinasFiji
AirwaysHong Kong
AirlinesOman
AirPhilippine
AirlinesSriLankan
Airlines
4 Star Low Cost Carriers
Allegiant
AirNorwegianSouthwest
AirlinesSpirit Airlines